Quotations of the Month -"Johnny the Bagger's® Thoughts for the Day"
These quotations are taken from an ebook titled "Johnny the Bagger's® Thoughts for the Day." They are the kind of "happy" thoughts he puts in everyone's groceries as he bags them up.
– "I'd rather one should walk with me than merely show the way." – Edgar Guest
– "Normal day – let me be aware of the TREASURE you are!"
– "A man's character is like a fence-it cannot be strengthened by whitewash."
– "Happiness is inward and not outward; and so it does not depend on what we have, but on what we are."- Henry Van Dyke
– "Be kind and merciful. Let no one come to you without coming away better and happier." – Mother Teresa
– "Be kind. Everyone you meet is carrying something."
– "Tears are the holy water from our deepest place of loving."
– "I still find this day too short for all the thoughts I want to think, all the walks I want to take, all the books I want to read, and all the friends I want to see."- John Burroughs
– "If I can stop one heart from breaking, I shall not live in vain."- Emily Dickinson
– "I have been driven many times to my knees by the overwhelming conviction that I had nowhere else to go."- Abraham Lincoln
– "It is better to suffer wrong than to do it, and happier to be sometimes cheated than not to trust."- Samuel Johnson
– "The best things in life aren't things."
– "Fear knocked at the door. Faith opened it to find no one there."
NEW PRODUCT -Hand Drawn Inspirational Posters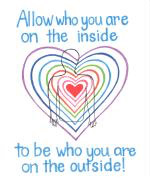 Many people have asked us for copies of the inspirational posters from the "Johnny the Bagger®" movie, so at last we have had them made into 24 x 18 glossy posters.
There are eight different hand drawn quotations with fun, brightly colored graphics to brighten up any training room, hallway, or office.
The posters contain the following quotations:
"Allow who you are on the inside to be who you are on the outside"
"There are two ways of spreading light: to be the candle or the mirror that reflects it."
"One may walk over the highest mountain, one step at a time."~John Wannamaker
The Human / Business Model of any interaction
"The heart is an awfully big place. It can hold a lot of people."~ Ralph Severson
"A smile is a window that shows your heart is at home."
"What the caterpillar calls the end of the world∑..the Master calls the butterfly!"
"Kind words can be short and easy to speak, but their echoes are truly endless." ~ Mother Teresa
SET of EIGHT — $400.00 plus shipping and handling
INDIVIDUAL POSTERS — $55.00 plus shipping and handling
You will love these for your organization or home, so order today!
Idea of the Month –"Make a Thanksgiving Tree"
(This idea is excerpted from Barbara's book "CARE Packages for the Home – Dozens of Ways to Regenerate Spirit Where You Live," Andrews McMeel 1998. Copies are available on Barbara's website.)
THE IDEA:
It doesn't just have to be the month of Thanksgiving that we share our gratitude and appreciation for blessings in our lives. One of the ways to keep "an attitude of gratitude" in our homes as well as in our workplaces is to make a Thanksgiving tree.
THE IDEA IN ACTION:
Many years ago I created a Thanksgiving tree for our home. I took a large manzanita branch, sprayed it gold, and secured it in a base of plaster of Paris. Beside it I kept a basket of small plain cards with holes punched in them, another basket of pieces of colored yarn, and pens. The tradition in our family is that the month before Thanksgiving, the tree is placed on a table in our living room, and each family member writes down things for which he or she is thankful and hangs them on the tree all month long. We also encourage guests in our home to participate. In fact, the mailman always knocked on the door on November second to write his blessings and hang them on the tree!
At the dinner table on Thanksgiving Day we read the cards from the tree as an affirmation of our blessings. Then we save the cards from the year before, and we read those as well. It is a wonderful way to remind us of all the goodness in our lives and reinforces the importance of sharing our appreciation. You might decide to read the cards in a workplace at a weekly or monthly meeting.
TIPS:
A number of my business clients have started this tradition in their workplaces, and all month long employees write on cards what they are grateful for. The "trees" have been made from many different kinds of materials, but the idea is always the same –taking time to be thankful!
This could also be used year round in a family or in a workplace to focus on the good things happening every day. We found that guests in our home for the month of Thanksgiving would almost always take time to read at least some of the cards on the tree. Many from the children brought smiles to their faces and added a special sunshine to their day such as one from my youngest daughter when she was about 8 years old. Since they were studying the Pilgrims, she wrote, "I'm thankful I don't have to kill the turkey before we eat it!" If the tree is kept up all year long, it will be important to remove the cards on a regular basis to make room for others and to encourage continual appreciation.
© Barbara Glanz Communications, Inc. 1998. All Rights Reserved.
For more fun, creative ideas, order the book at www.barbaraglanz.com
New Offering from Barbara – Personal and Executive Coaching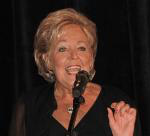 "Barbara is one of those rare people who can not only give a phenomenal presentation, but coach others to dramatically improve as well. I hired her to help me improve my signature keynote. She helped me immediately make changes that have led to a much improved presentation. I will use more stories, better stories, and speak from the heart more because of Barbara. I highly recommend her without hesitation to anyone who wants to become a better speaker."
Scott Crabtree, Chief Happiness Officer,www.HappyBrainScience.com
After MANY requests, I have started working with several speakers on identifying their brand, enhancing their presentation skills, writing and publishing their books, developing their content, and designing their programs using the theories of Adult Learning. It has been a special blessing in my life AND I often do not have to get on an airplane! Call me if you would like more details – 941-312-9169.
Where in the World Is Barbara?
SEPTEMBER
1 – 4 Coaching, Portland, OR
18 – 20 Guideposts National Advisory Board Meetings, Dana Point, CA
20 – 23 Gamma Phi Beta Reunion, Silverthorne, CO
24 – 26 Grand Junction, CO
OCTOBER
5 – 7 Lead Like Jesus Board Meetings, Dallas, TX
10 Manufacturer & Business Association's HR Conference, Erie, PA
13 Gateway Bank, Bradenton, FL
NOVEMBER
5 Castle Medical Center, Honolulu, Hawaii
7 American Organization of Nurse Executives, Kailua, Hawaii
11 – 12 Human Capital Forum 2014 World Tour CEO Conference, Bogota, Colombia
13 – 16 Bogota, Colombia
20 Human Capital Forum World Tour CEO Conference, Santiago, Chile
16 – 21 Santiago, Chile
How Engaged Are YOUR Employees?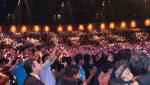 HR Magazine, May 2014 recently quoted the following survey:
According to Gallup data, what percentage of employees are fully engaged at work?
A. 13%
B. 19%
C. 22%
D. 50%
And in another article in the same edition, they asked this question:
TRUE or FALSE:
Someone who starts showing up to work late, fails to return e-mails, and takes many sick days is more likely to quit his or her job within a couple of months than other employees.
Thinking of your workplace, what would your answers be?
Sadly, recent Gallup data indicates that only 13 percent of employees worldwide are fully engaged with their work, and surveys of CEOs repeatedly show engagement as one of their top concerns. Employee engagement definitely correlates to retention, productivity, and financial results. My most popular speaking topic, for example, is "Spreading Contagious Enthusiasm™–Creating Workplaces of Passion, Purpose, and Productivity." The need for employees to find purpose and meaning in their jobs is critical today.
Surprisingly, the answer to the second question is FALSE! According to Utah State University research that drew on three studies and seven survey samples of students, managers, and other business leaders around the world, these behaviors, though often associated with quitting, were also exhibited by people who stayed. Again, these findings indicate a malaise and lack of purpose and mission in one's work that are disturbing, both from a business and a human standpoint.
In my next few blog posts at www.barbaraglanz.com/blog, I am going to share many very simple, no cost or low cost ideas to help boost employee engagement in any organization.
One of the most simple and yet most profound concepts I have ever discovered to share with my audiences can immediately change their perspective about the importance of their work.
When I ask people the question, "What is your work?", I always get the very same response – either a job description or a job title. What I want everyone in my audiences to realize is this – we are all SO MUCH MORE than a job title or a job description!
When I ask, "What is your work?," this is what I want to know: "How is what you do every day making someone's life better?" THAT is your very important work.
It doesn't matter whether people are emptying bed pans, carrying out the garbage, working on an assembly line, taking calls in a customer service center, or managing an entire team, they can find a way that their "work" makes someone's life better. Think of how different that idea is from simply "having a job."