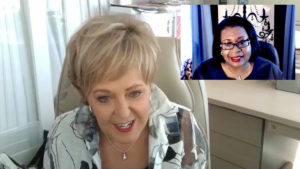 Barbara was honored to be interviewed as one of four Speaker Hall of Fame members for the January/ February edition of "Speaker" magazine by Marquesa Pettway about how she grew her speaking business.
Read More…
Barbara at SHRM international Convention in Washington D.C.

Barbara will be presenting two sessions at the Society for Human Resource Management International Convention in Washington, DC, held June 19 – 22.    She will be doing a Smart Stage presentation on June 21 titled "Exhausted, Confused and Ticked Off: A Model for Understanding the HUMAN Side of Change" and on June 22 she will present a MEGA Session titled "The Simple Truths of Appreciation and Recognition – Low Cost or No Cost Ideas to Keep Employees Engaged."  This will be her 19th year to be a presenter at this prestigious conference of over 15,000 HR leaders!
Gamma Phi Beta Carnation Award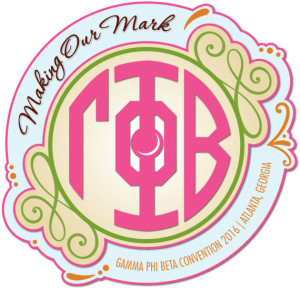 I am honored to have been selected as a Gamma Phi Beta Sorority Carnation Award recipient for the 2014-2016 biennium. The Carnation Award recognizes the accomplishments of distinguished alumnae in their professional and volunteer contributions to the communities, and this award is among the highest levels of recognition Gamma Phi Beta bestows on their members. I will receive the award at the National Convention in Atlanta, June 25, 2016.
Barbara featured in SCENE magazine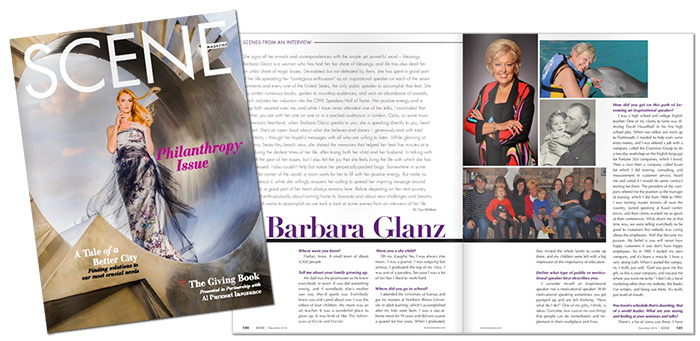 Gus Mollasis interviewed Barbara Glanz in a seven page article, "Contagious Enthusiasm," in the December 2014 issue of "Scene" magazine. If you don't get Scene Magazine, you can read it online. I was humbled and honored to be the featured interview in "Scene" magazine this month. Gus Mollasis interviewed me for two hours and wrote a lovely story about my work and life titled "Contagious Enthusiasm."
Sarasota Award Program Honors Achievement
SARASOTA November 25, 2014 — Barbara Glanz Communication Inc has been selected for the 2014 Best of Sarasota Award in the Business Consultants category by the Sarasota Award Program.

Each year, the Sarasota Award Program identifies companies that we believe have achieved exceptional marketing success in their local community and business category. These are local companies that enhance the positive image of small business through service to their customers and our community. These exceptional companies help make the Sarasota area a great place to live, work and play.

Various sources of information were gathered and analyzed to choose the winners in each category. The 2014 Sarasota Award Program focuses on quality, not quantity. Winners are determined based on the information gathered both internally by the Sarasota Award Program and data provided by third parties.
About Sarasota Award Program
The Sarasota Award Program is an annual awards program honoring the achievements and accomplishments of local businesses throughout the Sarasota area. Recognition is given to those companies that have shown the ability to use their best practices and implemented programs to generate competitive advantages and long-term value.

The Sarasota Award Program was established to recognize the best of local businesses in our community. Our organization works exclusively with local business owners, trade groups, professional associations and other business advertising and marketing groups. Our mission is to recognize the small business community's contributions to the U.S. economy.
Barbara speaks at Casa de Dios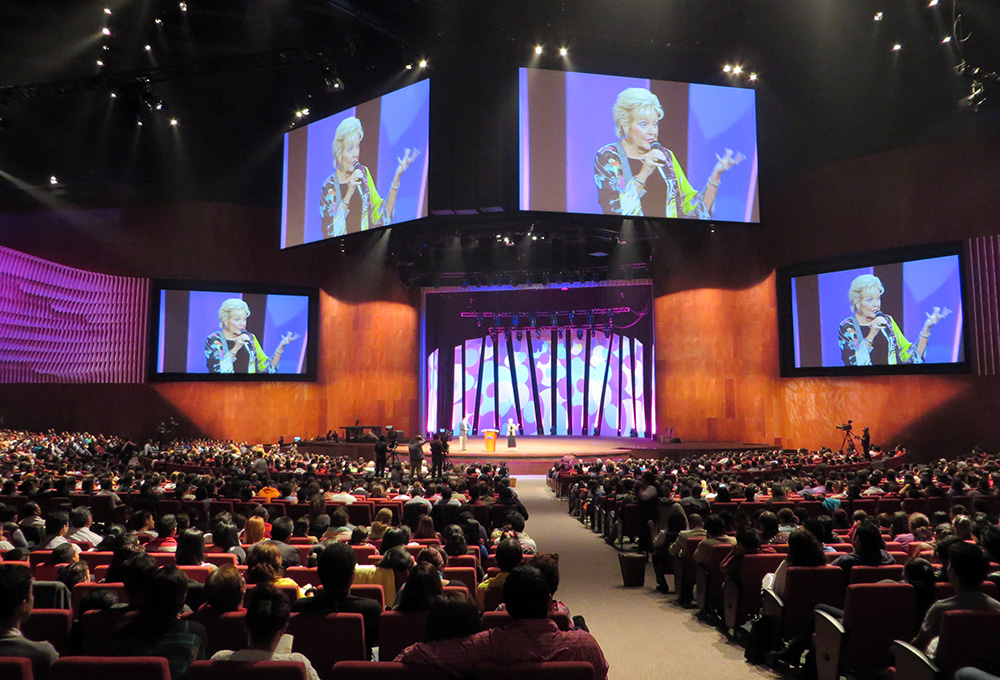 After being the opening keynote speaker for the Human Capital Forum CEO Conference in Guatemala City, Barbara was invited to speak to 10,000 people at Casa de Dios, the largest church in Latin America.  You can watch a webcast with Barbara and this amazing experience.
Barbara Works With Google
Barbara recently filmed a special project for Google, where she was chosen as their customer service expert. More details will be made available at a later date.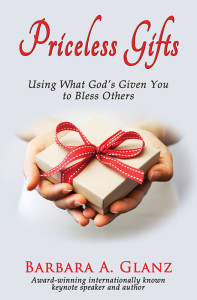 Barbara's newest book is Priceless Gifts: Using What God's Given You to Bless Others. It's an inspirational book about the joys of Giving and Receiving. It will touch your heart with dozens of real life, positive, low-cost or no-cost, immediately actionable ideas of things people have done for one another. This practical and useful book will help you to find many more simple, creative ways you can make a difference every day. Order yours here.
Barbara Speaks at CEO council of Tampa Bay
Barbara spoke at the CEO Council of Tampa, on "Workplaces of Passion, Purpose and Productivity"  This is the audio link to Barbara's presentation in December to the CEO Council of Tampa Bay. Enjoy!
Is your organization experiencing overwhelming change, high employee turnover and low morale, increases in customer complaints, or burnout from having to do more with less? Are your employees struggling to find a balance between their work and home lives or do they simply need a boost of positive energy? If so, Barbara Glanz can help you! Clients say her exciting, motivational, action-oriented presentations have given their employees a new sense of direction, understanding, and hope. Contact our office today at (941) 312-9169 to see how we can help your organization.

Older News Items