In This Issue: April / May 2015
Quotations of the Month – Celebrating Our Differences
Idea of the Month–Create an Atmosphere of Encouragement
A Spoonful of Comfort and SERVICE
Request for Stories about Johnny the Bagger®
Where in the World Is Barbara?
A Daily Lesson from my Friend, Mike Hall
Quotations of the Month – Celebrating Our Differences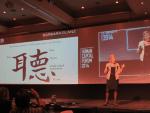 "Not to see with your HEART is equivalent to blindness." ~ Lena Coleman
"If you focus on only one color, how could you see the RAINBOW?" ~ Devante Petrie
"Anyone can make a difference; it's just your CHOICE whether or not you will." ~ Ryan Hackleberg
"Don't exclude me because I'm different; include me because I am UNIQUE."~ Daniella Martinez, age 14
"It's impossible for us to be so different that we have nothing in common." ~ Amy Padgett
"The first step to accepting other's differences is to EMBRACE your own."~ Damon Ranta
"A COMMUNITY is not a community without UNITY." ~ Samm Fisher, age 12
"I am not you; you are not me. But TOGETHER we can change the world." ~ Mark Elliott
A Spoonful of Comfort and SERVICE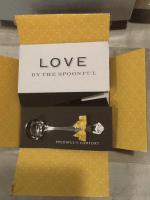 In February I had some major surgery and had to be "out of commission" for several weeks. During that time I received one of the most touching gifts of my life from my coaching client and dear friend, Laurie Flasko. It was called "A Spoonful of Comfort – The Gift That Feels Better."
It came beautifully packaged in a box with a yellow print interior and everything tied with yellow and white polka dot ribbons. The package had two smaller boxes inside, one containing a huge glass bottle of homemade chicken noodle soup and the other with six homemade rolls. On top was a lovely silver ladle tied with a yellow polka dot bow and the words, "LOVE by the Spoonful."
On the front of the larger box was this quotation, "We cannot all do great things, but we can do small thing with great love."~ Mother Teresa. On the back was this paragraph:
"A few years ago when I received a call that my mother had been diagnosed with cancer, I wanted to comfort her the way she had always comforted me: make her chicken soup. She lived many miles away and there was no convenient way for me to do that. After I lost her, I started a company, in her honor, that helps others provide a gift of warmth, comfort and caring to loved ones in a moment of need."~ Marti Wymer, Founder.
The smaller box had the following quotation on the front: "One of the secrets of a happy life is continuous small treats." ~ Iris Murdoch. On the back was this paragraph:
"These rolls are just like the ones my grandmother used to make. When she knew we were coming for a visit, she always had fresh rolls, with that heavenly aroma, cooling on the window sill of the back porch. We loved to steal one or two and tell Nan that the squirrels were the culprits! I wanted Spoonful of Comfort rolls to have that same old-fashioned, goodness and flavor. There's nothing like dipping a good roll in hot soup. Enjoy!" ~ Marti Wyner, Founder.
Not only didI I thoroughly enjoy these treats and the special thoughts behind them, but an even more special thing happened. When the original package arrived at my condo, even though it was marked "Fragile – Open Immediately," the postman left the box inside a mail deposit box instead of calling to tell me I had a package downstairs. Since I wasn't feeling well, I did not go down to the mailbox for two days.
When I finally did get the package, the soup, though it had been frozen and in a cooler type packing, was thawed and room temperature. Since the instructions were to keep refrigerated and use within two days, I called the company to see what I should do, explaining the whole situation.
The person who answered was extremely understanding and concerned about my health. She said to discard the soup and immediately offered to send a new package Fedex overnight to be sure it would be delivered immediately. The very next day an entirely NEW package with all the original contents was delivered. I would have been delighted to simply have them replace the soup, but they certainly went the extra mile to recover from a mistake that was not even theirs!
I began by being deeply impressed with their creative packaging and style and then with the quality of the product. However, I ended up being most touched by their extraordinary customer service. They not only immediately responded to my concern but absolutely exceeded my expectations. I can hardly wait to send a "Spoonful of Comfort" to a hurting friend!
If you have a need for a unique and caring gift, go to spoonfulofcomfort.com
Where in the World Is Barbara?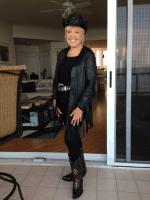 April 22 – 24 NSA-MN, Minneapolis, MN
April 26 – 28 Boca Raton, FL
May 7 -8 Nashville, TN
May 9 – 10 Atlanta, GA
May 10- 13 Montego Bay, Jamaica
May 27 – 30 Rome, Italy
May 31 Sicily
June 1 Tunis/ Carthage
June 3 Florence, Italy
June 4 Genoa, Italy
June 5 Toulon, France
June 6- 8 Barcelona, Spain
June 29 – July 1 Society for Human Resource Management, Las Vegas, NV
Julyl 1 – 3 Portland, OR
July 4 — Seattle, WA
July 5 – 11 Alaska Cruise
July 12 – 13 Portland, OR
July 17 – 22 NSA, Washington, DC
July 22- 24 Frankford, DE
August 13 – 16 Mastermind Retreat, Naperville, IL
August 27 – 30 Veteran Speakers Retreat, Washington, DC
For a more current calendar, go to www.barbaraglanz.com/calendar
Idea of the Month–Create an Atmosphere of Encouragement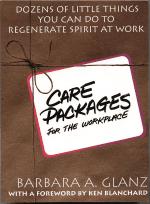 This idea is excerpted from Barbara's book, "CARE Packages for the Workplace — Dozens of Little Things You Can Do to Regenerate Spirit at Work"
Create an Atmosphere of Encouragement
THE IDEA:
If the physical atmosphere in an organization is inviting and encouraging, people will feel better about coming to work and thus, will be more productive.
THE IDEA IN ACTION:
* When I visited the Cedar Falls Center of APAC Corporation, I was immediately impacted by the bright colors and positive, uplifting atmosphere. Right inside the door was a display of all the prizes the associates could win for exceeding their goals, a wonderful visual encouragement. Next, on a side wall was a huge graph in the shape of a pizza which read "PIZZA — PIZZA: LET'S BEAT IOWA CITY!" This was a constant reminder of a fun internal contest they had created. The losing center had to buy the other center pizza.
Throughout the center there were large signs and banners posted in bright colors:
There is no "I" in team
Every time you make another call, no matter how many times you've heard the script, this is THEIR FIRST TIME!
Discover it Today — You're Appreciated!
Speak positively about each other and the organization you serve.
In helping others, you help yourself!
On another wall was the company communications bulletin board which is duplicated in every center. It is a tool to disseminate information and to celebrate individual accomplishments and personal events. In every cubicle the APAC mission statement was prominently displayed. Another wall had a bright chart translating what achieving 100%, 110%, 120% and 130% of their goals would mean to each employee in extra pay per hour, really showing in a concrete way "what is in it for them!"
As I walked around, the atmosphere permeated all the work that was going on, and I heard employees who really felt good about their jobs and the difference they were making.
* The founder of a pediatric dental office in Oakland, California, has created a very special atmosphere for his patients and employees. He feels people should learn about healing in a fun and happy place. All the pictures are at the children's eye level, including the bulletin board with pictures of the other dentists and employees as children themselves. Bright colors, "theme" rooms, stuffed animals hanging from the ceilings, and a "yellow brick road" to help the children find their way all add to the happy atmosphere. The doctor tells this story as one of the best affirmations he has ever had about the vision he has created:
He had been noticing an older man eating his lunch in the waiting room for several days. Finally, he asked him one day, "Do your grandchildren come here to get their teeth fixed?" He answered, "No." "Are you waiting for someone?" "No," he answered. When the doctor finally asked in a kindly way why he was there, the man replied, "I used to be the postman for your office, and it always brightened my day to come here. Now I'm retired, and I just like to come here to eat my lunch and watch."
TIPS FOR IMPLEMENTATION:
Let employees get involved in brightening up the atmosphere. Tom Peters admonishes us to "fight boredom and sterility." Have a "poster party" and ask employees to bring in their favorite sayings or quotations. Provide flip chart pads, colored markers, and snacks. You will be amazed at the talent you didn't even know existed! Then laminate these and post them all over the building to create a positive, motivating environment.
To order hand drawn motivating posters for your workplace, go to www.barbaraglanz.com/products/posters
Request for Stories about Johnny the Bagger®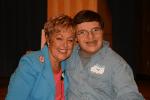 We have just been informed by the publisher that "The Simple Truths of Service Inspired by Johnny the Bagger®" is going to be revised and reprinted in a new format as a hard cover business book which will be available in all the bookstores in October.
We have decided to add a new section to the book about how the book and the story of "Johnny the Bagger®" have impacted service cultures and people's lives. Please send any stories about how Johnny's story has brought encouragement and new hope to you and your organizations. What have you or your companies done differently as a result of hearing his story? How were you personally touched by it?
Please email stories to bglanz@barbaraglanz.com in the next 30 days. The final decisions will be made before the end of May.
Please email your stories to bglanz@barbaraglanz.com by May 20.
A Daily Lesson from my Friend, Mike Hall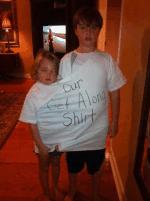 A very young cowboy came to a red light this morning at Littleton Boulevard and Santa Fe.
A small voice whispered to put the car in park and take three deep breaths with eyes closed. After the first three, he took three more because it's a very long light indeed.
It was a bit of an epiphany.
Most days we're PRESSING the gas to hurry up and get here or there……with minds looking a hundred different ways ahead to dinner plans, soccer/lacrosse practices, and on and on and on. When you put the car in park, sure you have to PRESS the brake to shift into another gear.
That's the secret. Once in park, the car idles and so does our mind as we take the three deep breaths. If your insides could talk, they would be whispering, "Thank You." Thank you for letting the foot off of the gas and just idling for a moment. Thank you for taking time to realize that now is what matters and that the future will take care of itself.
The young cowboy sensed that the turn arrow was about to go off and slowly pressed the brake pedal. He eased the car into drive and realized that that sixty seconds was of infinite value. Maybe the rest of the day would not be filled with PRESSING and DRIVING……replaced by gratitude and a couple of slow breaths every now and then.
Thank YOU, Mike, for a lesson we can all use every single day!