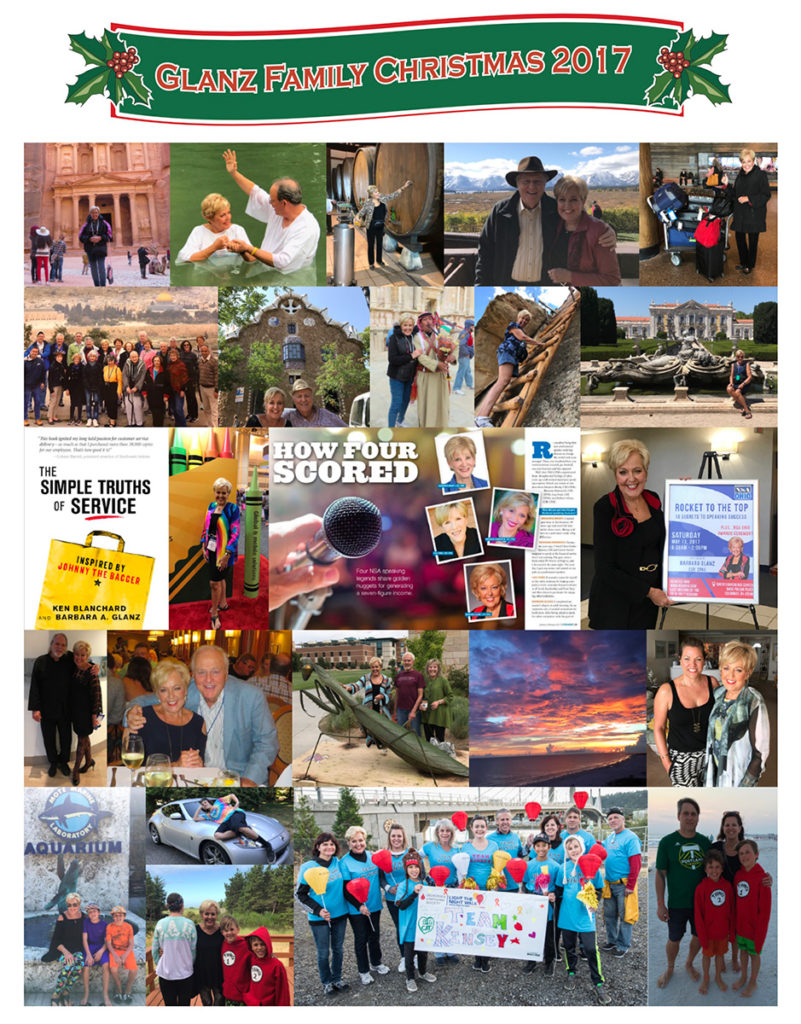 What a whirlwind this year has been!  I have flown nearly 120,000 miles, explored 6 countries, visited 3 national parks, had the privilege of speaking to many amazing organizations all over the country, and was blessed to share lots of fun experiences with friends and family.  How could life be better than this?
We all spent Christmas with Garrett and family in Seattle. January was the quietest month of the year – the most exciting events were the release of a new business edition of "The Simple Truths of Service" and taking a fun painting class (especially thought of my mother who was an artist and art teacher!)
In February Frank took me on a cruise from Port Canaveral to Nassau to celebrate our 4 year "anniversary." Later that month I was delighted to be asked to serve on the Board of Designing Women, a group that gives hundreds of thousands of dollars to support the Arts in Sarasota.
March was a highlight with a long-desired trip to the Holy Land, visiting both Jordan and Israel. It was led by our pastor who is also an archeologist and does a dig every summer in Israel, so we not only had the historical and political perspectives from our guides, but also the spiritual and archeological focus from Pastor Bill. Highlights were sailing on the Sea of Galilee, getting baptized in the Jordan River, walking through the Valley of the Doves in the exact footsteps of Jesus, floating in the Dead Sea, exploring Petra and Masada, and putting prayers for friends and family in the Wailing Wall.  Reading my Bible will never be the same again!
April brought a visit from my brother, Brian, from Thailand whom I had not seen in four years, a fun week here with Gretchen, Randy, Owen and Simon from Portland, a trip to Chicago, and in May to Nashville for Frank's grand daughter's graduation. My friend, Nancy, and I had a delightful visit in Ashville, NC, to celebrate the anniversary of dear friends.  We did a food tour, a scavenger hunt, and lots of partying – LOVE that part of the country!
In May I was asked to speak for the third time to the city of Durango, CO.  MY brother, Bruce, who has been a professor at Mesa State University for 30 years, drove over to meet me. We spent the next day at Mesa Verde where we took a tour to Balcony House, one of the famous cliff dwellings.  As a part of the tour, you had to climb a 30 foot wooden ladder on the edge of a cliff to get up to the ruins (one of the scariest things I have ever done!) and then to get out, you had to crawl through a 12 foot tunnel that was only big enough to do on your hands and knees.  After we got back to the top, one of the couples on the tour told me that at first they thought Bruce and I were married…….UNTIL when I started to crawl through the tunnel, he took a picture of my rear end! Then they knew that we could not possibly be married – only a little brother would do that…… 😉
Afterwards I went back to Grand Junction with him to share in the installation of a huge sculpture of a preying mantis he had commissioned and donated to the university as his retirement gift (see picture).  He named it "Lucille" after our mother. 😉 How she would have loved that!  Later that month Frank took me for a fun few days to Amelia Island to celebrate my birthday.
In June I spoke for the national SHRM convention in New Orleans for my twentieth year. I adore that audience! In July Erin came for a week, and I took the whole family to Long Beach, WA, for a long weekend.  A special highlight was introducing my dear friend, Jolene Brown, at the National Speakers Association Convention in Orlando as she was inducted into the Speaker Hall of Fame.
August was another blessed month with a cruise with Frank to Spain, Portugal, and Gibraltar.  Unfortunately, Delta lost our luggage for three days after we arrived in Bilbao, but they kindly reimbursed us for all the clothes we had to purchase in the meantime. We stopped at various ports along the coast and ended in Barcelona the day after the massacre.  We were deeply touched by all the memorials, yet life already seemed back to normal there.  We toured Sagrada Familia, Guell Park, and one of Gaudi's amazing homes as well as attending a tango show.  Barcelona continues to be one of my favorite cities in the world!  The month ended with a trip to DC for the Veteran Speaker's Retreat.
We were evacuated in September due to Hurricane Irma, but luckily, we had no damage. Both September and October were busy speaking months with very special clients as well as a week's trip to the Grand Tetons and Yellowstone National Park with Frank. The other highlight was being a part of "Team Kinsey" for the Leukemia Walk in Portland.  She was thrilled that 50+ people donated  $5000+ for research in her name.  She has bravely fought this disease the past 18 months but still has two more years of chemo once a month. Thankfully, she has been able to go back to school this fall. We all continue to pray for healing.
In November Frank and I are taking the Queen Mary II to London and in December I am meeting three girlfriends for shows in NYC. Then Erin and I will spend Christmas in Colorado with my sister and brother.
Garrett has a new job with Amazon in Seattle focusing on "Alexa." Ashley and Kinsey are enjoying their horse, Rally, while Gavin is working two jobs to save for a new car.  Owen 12 and Simon 10 are busy with soccer, school, video games, and building robots. Gretchen continues as Ops manager for three boutiques in Portland while Randy is doing freelance website work.  Erin enjoys her work in fashion, her new house, the Timbers soccer team, and her kitty, Cricket.
I feel so very blessed to have good health and such wonderful family, friends, and clients.  May 2018 overflow with faith, peace, love and joy in all your lives.
Blessings,