Last week I was scheduled to fly Delta from Sarasota through Atlanta to Las Vegas to speak there the next day. Two weeks before the flight was to leave Delta suddenly changed the schedule, and as a result, even though I had purchased the ticket two months before, I lost my priority seating. By the time I called them the next day, all the seats in Delta Comfort were gone.
Since I am a Million Miler on Delta and also Diamond, the highest status, I am spoiled and was not happy about sitting in the very last row of seats in the plane, especially when I had paid $1400 for the ticket!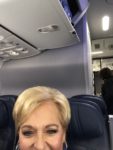 After I was seated, a lovely New York based flight attendant named Marianne Micheletto was talking with me while everyone boarded, and I told her my sad story. Later as she came around with the food cart, she said to me, "What would you like? It is on me." So I had a nice cheese and fruit tray. Then, when she came again with the drink cart, she treated me to a white wine.
Now when you are in the back of the plane, you get nothing except pretzels and a soft drink, so she truly went above and beyond to make up for my displeasure with Delta. I was delighted!
A little while later I had gone back to the lavatory when I spied a package of my favorite potato chips on the counter (which you always get in First Class and Delta Comfort), so I asked another flight attendant if I could have a bag. She said, "Oh, no, these are just for the people in the front." What a CONTRAST to Marianne! Later Marianne sneaked back with the chips for me with a huge grin – even she could not believe the other attendant.
It turned out that across the aisle from me were some young guys going to Las Vegas for a bachelor weekend before one of them got married, so they were having a gay time, and Marianne and I had such fun talking with them. Funny – because of Marianne and the guys, I actually had a better time in the back of the plane than if I had sat up front!
Finally, as I was getting ready to leave the plane, Marianne came over and gave me a hug and told me she was putting 5000 airline miles into my account to make me even a happier Delta customer. I was blown away by her caring and her attention to me, and I will certainly remain a loyal Delta customer, all because of Marianne!