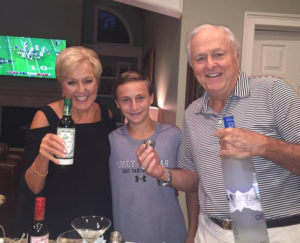 Frank, Michael and I celebrating our arrival in Atlanta after a 9 hour drive Saturday night – feeling SAFE at last!
As I write this, I am sitting in Atlanta at the lovely home of my friend Frank's daughter and son-in-law watching the storm as it approaches our area. Thank God, Hurricane Irma is now only a tropical storm, yet the wind and rain are still fierce.
Since I live on the beach on Siesta Key, a barrier island in Sarasota, Florida, we had a mandatory evacuation on Saturday. After about four different plans during the previous days, Frank and I finally decided to leave that morning to drive north to Atlanta rather than staying where what seemed was going to be the eye of the storm.
In all this preparation, anxiety, and decision making, here are some of the things I learned:
1. PREPARE FOR THE WORST AND HOPE FOR THE BEST. Like everyone else in the area, I began on Tuesday to pack precious things away, get water, canned food, candles and gas, fill water containers, clean out the refrigerator, go through important papers, get all my work clothes and materials ready, and generally plan for the possibility of being off the island and without power for several days or more.
2. BE FLEXIBLE. My first plan was to go to a girlfriend's condo downtown while Frank was determined to stay on Longboat Key, the island where he lives. Then as the news looked worse, I convinced him to join me at a friend's home inland. Finally, at the last minute we decided to leave – which seemed like the wisest decision at the time. Fortunately, we had a safe trip and found one gas station open on the way to ensure we could make it to Atlanta. From Tuesday on, however, I have had an upset stomach trying to determine the best course of action. Thanks goodness we kept all options open.
3. DETERMINE WHAT IS REALLY IMPORTANT TO YOU. As I was struggling with what to pack away, which rooms would likely survive windows blowing out, and which things to take with me, I really began to think about what I would miss if I lost everything. Of course, the first thing I did was to pack all my pictures in a plastic tub, cover the étagère with my doll collection and my grand piano, and move my desktop computer to the only room without windows. I packed my insurance policies, my checkbooks, my daytimer, my iphone, laptop and ipad as well as an overnight bag with toiletries and fresh clothes and underwear. Then came the decisions about what else to save. What really amazed me was how little I realized I would truly miss. After all, they are all just "things" that can probably be replaced, but lives cannot. (I even almost secretly hoped that all the piles of papers and books that I need to sort might just "happen" to get wet and I could simply dump them without any guilt! 😉
4. BE BLESSSED WITH HOW MANY PEOPLE CARE ABOUT YOU. I have been overwhelmed with all the calls, emails, and texts from friends and family all over the world who have shared their concern for our safety and the precious gift of their prayers. We have been deeply touched by the generosity of so many who offered us places to stay, their help in any way we might need, and even financial help if needed. The National Speakers Association has been calling every member in the affected area and offering help. One of my dear speaker friends knew I had a speaking event in Texas this Thursday and offered to be my standby if I could not fly out on Wednesday. Even when we stopped at the only station open for gas on our drive to Atlanta, the staff could not have been nicer. We are MOST grateful, however,l to Frank's daughter and her husband and son who welcomed us so graciously at the last moment!
5. PRAY UNCEASINGLY FOR OTHERS. Even though Frank and I have been spared, how we all must keep praying for others who have been greatly impacted by this storm. Prayers DO count!   I may still have water (won't know for sure until I return on Friday night); however, that is a small inconvenience compared to so many, many others.
I will always remember these lessons and the GOODNESS of people and the way we can come together during a crisis. Our world desperately needs this hope right now. I am feeling so very BLESSED!
For more information on Barbara and her work, go to www.barbaraglanz.com.