TRIP TO AUSTRALIA – September 28 – October 18
September 28 – I had the most difficult time ever packing for this trip – anyone who knows me well knows I NEVER travel light! 😉 We had five internal flights through the country where I could only have ONE BAG of 50 pounds. With such different weather conditions (cool in Sydney, cold in Melbourne and Adelaide, and VERY hot in Queensland), I really struggled with what to take and how to get it all in for 50 pounds. Thank goodness patient Frank had some extra room!;-)
Our flight to Atlanta left Sarasota late morning. Unfortunately, we had a 3 hour layover in Atlanta before the 5 hour flight to LA; however, thankfully Frank and I are both members of the wonderful Delta Sky Club, so we always have a nice place to wait. The long 16 hour flight to Sydney began about 11:00 pm from LA, so after dinner and a couple of movies, both Frank and I got a few hours' sleep. Although we were in coach, we each had neck pillows and I took an ambien, so it wasn't quite as bad as 16 hours on an airplane sounds! (The trip home, however, was another story……..)
September 29 – When we arrived in Sydney at 6:30 am after travelling through 15 time zones, we were met by a driver and taken immediately to our hotel, the Radisson Blu, which was just a few blocks from the Circular Harbor where all the action is. Sydney is the largest and the oldest city in Australia with 4 million people and is one of the most beautiful cities in the world. It is a very young country with the average age being 37. We were also intrigued that we were advised not to tip since the minimum wage is $17.40!
The children have school all year (40 weeks), there is a national curriculum, and they all wear uniforms for equality. Hats are compulsory any time they are out in the sun because they have the highest incidence of skin cancer. Residents are taxed only on the land value of their homes, not the building itself – and there is no capital gains tax. Good reasons to move there! 😉
It was raining and cool when we arrived (our only day of rain), but we decided to walk the few blocks to the Harbor and the Opera House. Right outside the Opera House was a huge celebration from Fox News for the Sydney Cup (the super bowl of rugby which they call "football") with all the media, players, and lots of crowds, so that was a fun orientation to the culture. One of my dreams has always been to see something (anything!) at the Sydney Opera House. While there, we found that there was a Beethoven performance on our last night in Sydney, so I was thrilled when we purchased tickets!
Of course I had a to do a little bit of shopping 😉 ! I bought darling UGGs for Kinsey and soccer shirts for the grandsons while Frank purchased a Crocodlie Dundee Aussie hat for golf. We then walked to the Royal Botanical Gardens which is a lovely area right in the middle of the city. After returning to the hotel and unpacking a bit, we had dinner at a delightful seafood restaurant right on the water. A fun surprise was seeing a delightful fireworks display across the water while we were eating. We decided that we were "Florida wimps" because we asked them to put on the outside heaters, much to the chagrin of the table next to us!
September 30 – The next morning we took a Sydney City Tour by bus. Part of the tour was a walking tour through the "Rocks". This area was where the convicts who first populated Australia lived and had really interesting architecture and history. They were sent there after Great Britain lost the American colonies in 1784. There were 10 men to every woman and the area was populated with lots of gangs called PUSH because they used socks as weapons! Most of the buildings here are made of limestone with oyster shells. This whole coast is famous for their oysters. (We couldn't wait to try them!) It is also famous for the George Street market.
We also saw Darling Harbor which we would come back to the next day, some lovely mansions, and Bondi Beach, where my Aunt Joan, who was a model and beauty queen in Australia, met my Uncle Wayne, who was a colonel in the American Airforce there on leave. She was sunbathing on Bondi Beach, he saw her, asked her out, and they ended up being married for over 60 years!
There are over 35 major surf beaches in Australia, and almost every beach has a separate pool for swimming because of many sharks in the ocean. Interestingly, before 1906 people could only swim at night, there were divided beaches for men and women, and women had to be covered from the neck to the knees. In the 1960's bikinis were allowed, but there had to be 3 inches of material covering the thighs. Inspectors carried measuring tapes around with them!
The highlight of the day, however, was a guided tour of the Sydney Opera House, Australia's most famous building. When the project began, there was a design contest that had over 200 submissions. The final winning submission by Jan Utson in 1956 was rejected in the first round, but when one of the judges moved to re-review all 200 submissions, the current design was selected with a $100,000 prize. Ironically, the design was creative and ingenious, yet not being an engineer, the architect had no idea how to actually construct it!
His design scalloped six sections of a sphere using the metaphor of ship's sails. Unfortunately, It took 14 years to complete- 1959-1973. The project was suspended after 6 years because of budget (it went from a projected $7 million to over $105 million dollars!) and politics, and the original architect was fired at the time of the suspension. Unfortunately, he never came back to view the final result. However, we heard that his son is going to be involved in some upcoming renovations of the structure.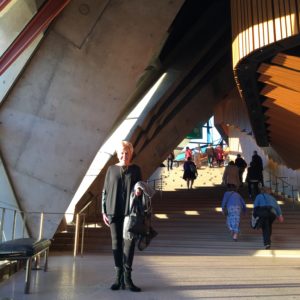 All told, there are over 1 million individual tiles in one of seventeen shapes and 2 colors which were applied to the exterior roof of the six shells. In all these years, only 16 tiles have had to be replaced! The idea of this chevron design came from Utson's wife's swimsuit! There are 2600 seats in the main hall made of white birch with a eucalyptus ceiling and six different venues within the building. The acoustics are so good that they never have to use microphones, It is the newest World Heritage site. We were astounded with the magnificence of the whole structure, and this tour was one of the highlights of the trip for us. That night we had glorious fresh seafood again.
October 1 – Today we did an Express Harbor Cruise from Circular Quay where we met Captain Cook 😉 . It is a 1 ½ hour round trip cruise where you can hop on and hop off at various stops. Our first stop was Taronga Zoo, a very large, hilly group of outdoor venues where the highlight for us was the gorillas and seeing an "elephant bathing". We took the Sky Safari Cable Car up and back from the harbor to the zoo which gave us a lovely view of the harbor. It is over 120 feet deep and 1000 ships can anchor there at a time.
Our next stop was Darling Harbor, another famous area filled with restaurants and shops.  We immediately headed for the Sydney Fish Market, which is the second largest fresh seafood market in the world.  It was fascinating – dozens of stalls of all kinds of fresh seafood.  We were thrilled to find HUGE oysters for $2 each and ordered 3 dozen of them along with one pound of huge tiger shrimp.  We ended up having to stand up to eat them because it was so crowded, especially with people from Asia.  We ordered an Australian beer and gorged on our oysters, another highlight of our trip!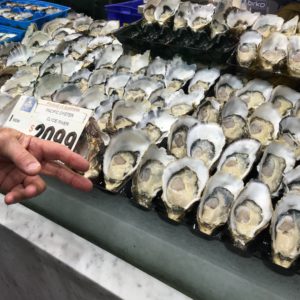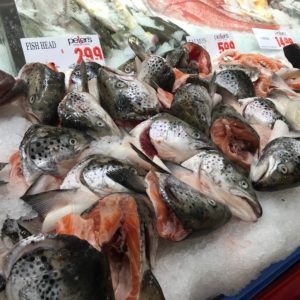 October 2 – This was a day of leisure for us. We slept in and then went to the Botanical Gardens to see the Art Museum. We smiled that one section was named "Michael Angelo", a huge spelling mistake! We loved the museum and especially an exhibit of Japanese art by Tashiyoshi. All his paintings contained some version of the moon.
That evening a new speaker friend, Jenny Cartright, picked us up, and she and her husband, Simon, invited us for dinner in their home along with the current president of the Australian Speaker's Association, Peter Merett. What a lovely evening we had and a wonderful chance to experience a real Aussie home!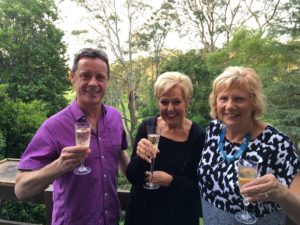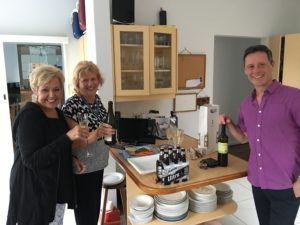 October 3 – We were picked up in the morning for out flight to Melbourne which was voted "the world's most livable city" because of its parks, wide boulevards, and the free public transportation by tram. After we arrived, we walked across the Collins river for lunch. Frank had the best onion soup he had ever had! That night several new speaker friends, organized by Winston Marsh, met us for dinner at our hotel. I am so excited to have so many new Aussie friends!
October 3 – Today was a LONG day (7:30 am to 11:30 pm), but well worth it! We were picked up at 7:30 am to first take a Melbourne city tour by bus. We had a photo stop at St. Patrick's cathedral and then a visit to the lovely Fitzroy Gardens where Captain Cook's cottage is located.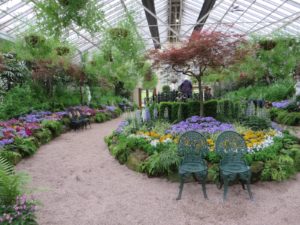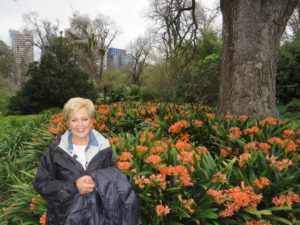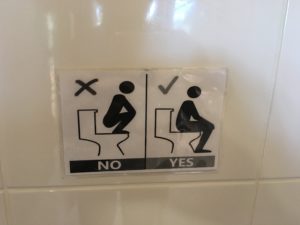 We were intrigued with the interesting sign in the ladies' room! My favorite part of the morning was a tour through the alleys and arcades of the city for a brief shopping tour. I found a lovely shawl even in that few minutes! 😉 Do you know the difference between an alley and an arcade? An arcade is under a roof. Finally, we had a (too short!) visit to the Queen Victoria Market where we tried to find leather jackets but ended up with more t-shirts for the kids because of lack of time!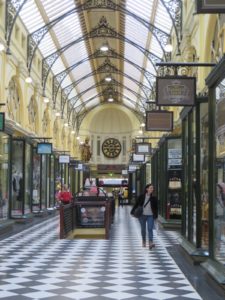 Now we were off to Phillip Island for the nightly ritual of the Penguin Parade which is the most popular attraction in Australia. On the way we stopped at Churchill Island where we saw the Moto Gran Prix racetrack and the Koala Conservation Center as well as a "mob" of kangaroos, our first sightings of the famous Aussie wildlife. We made a quick stop at the Nobbies for dinner, the southern most point of Australia. The wind was so strong that I stayed inside while Frank went down to the shore for pictures.
It was very cold, so we all bundled up for the parade. (We were lucky as it only started raining as we were on our way back to the bus!) There were bleachers all along the shore where every evening at sundown the 1600 precious little blue penguins toddle out of the water up the hill to their burrows. They are about 12 inches tall and weigh 2 pounds with a 7 year lifespan, and they mate for life. Because they find their food by eyesight, photographs are not allowed for fear the flash might damage their sensitive eyes. The crowd of several hundred people were completely silent as the parade began, and we were all mesmerized by this amazing natural phenomena! Then it was a LONG bus ride home……..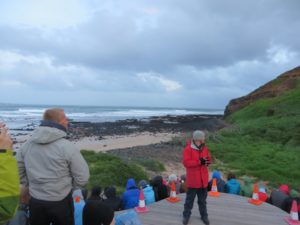 October 5 – The next morning we were picked up for our flight to Adelaide, Australia's wine capital. We walked a bit, rested, and then had a nice dinner, recuperating from the long day before.
October 6 – Today we were excited for a bus tour to the Barossa wine region. We saw many vineyards on the drive there. The largest vineyards are Jacob's Creek and Penfolds and the area is most famous for its shiraz. Our first stop was TeAro Estate in Williamstown located in an 1850s heritage listed barn. We had morning tea and a wine tasting. We then went to Lambert Estate at Angaston, where we had a lovely gourmet lunch with wine pairings. We both purchased wine from here for the rest of our trip. This was followed by a stop at Mengler Hill Lookout and then Pindarie for another wine tasting. We made it an early night because we had a VERY early pickup in the morning.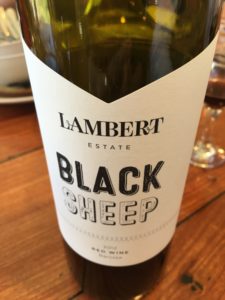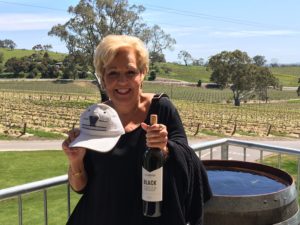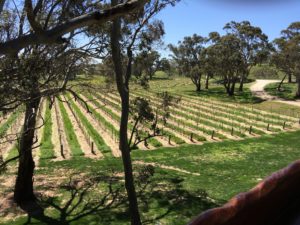 October 7 – We were picked up at 6:15 am to travel to Kangaroo Island – UGH!!!!! However, these two days ended up being my favorite part of the whole trip, even with hating the early time. 😉 It was about a two hour bus trip to the ferry made very stressful because of traffic, and then we had a half hour ferry ride from Cape Jervis to the island. Kangaroo is a natural habitat for native birds and animals.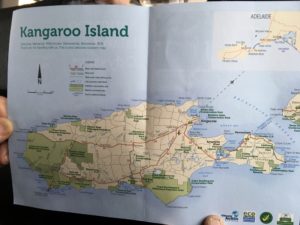 Our guide, Terry, picked us up at the ferry in his SUV where we joined three other people for the day, starting with a trip through the natural bush property and a bush walk to see koalas hanging in the eucalyptus trees. They are darling, and we also learned that koalas are NOT bears! We also learned that the females are the aggressors and attack the males even when it is not mating season. When the males are fed up, they simply push the females out of the trees. If they land on their backs, the often just get up and walk away and go back to chasing the males!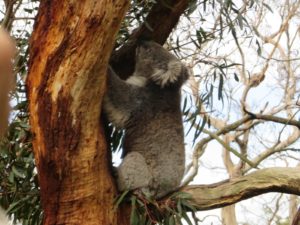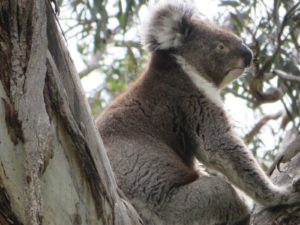 We also saw lots of mobs of kangaroos and wallabies up very close in their natural habitat and even an echidna. We learned that Kangaroos have two stomachs and two separate sets of teats so the mother can feed two different aged joeys at the same time. The babies somersault into and out of the pouch which we were luckily able to see.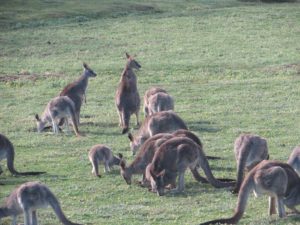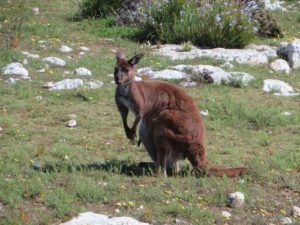 Later we stopped for a special lunch prepared by our guide in the midst of the bush under a tent where he grilled chicken and served some delicious salads with wine. What an incongruous place for a gourmet lunch!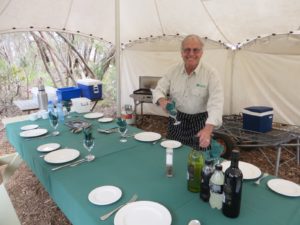 One of the interesting things about the island is that there is no water, so every home has a water tank to catch rain water. Learning that Frank played golf, Terry stopped to show us a golf course there. Because of the water issue, there are no fairways and the greens are made of fine grade asphalt!
Our favorite part of the day was the Seal Bay Conservation Park where we saw an amazing colony of endangered sea lions basking on the beach and lying on the sand dunes. One of our favorite experiences was watching a mother and baby seal trying to climb up a dune. The mother made it, but the baby kept falling back down again and again. Finally, the mother turned around and gave up to be with her baby. Sadly, the males have nothing to do with babies after they are born. We were very fortunate because the guides said this was one of the first warmer days when they were all out on the beach.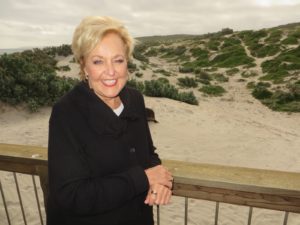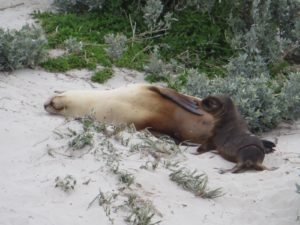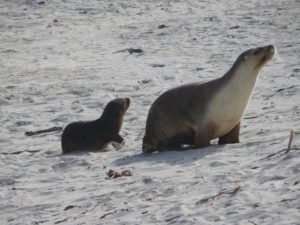 That evening we checked into the Aurora Ozone Hotel, which was a bit like going back in time. It was clean but sparse and seemed like the only choice on the island. Our dinner left a lot to be desired, yet the day was extraordinary.
October 8 – The next morning we joined our guide and one other woman on a trip to the western section of the island to Flinders Chase National Park, much of which is a Wilderness Protection Area. On the way we stopped at a private wildlife reserve where I got to feed kangaroos and hold a koala, one of the most exciting things for me of the whole trip! The koala weighed about 40 pounds and left a few little scratches on my shoulder from his claws, but I treasured every moment. Watch for a picture on my Christmas card! 😉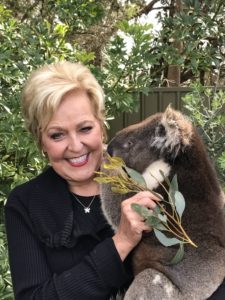 The most fascinating part of the day was visiting Remarkable Rocks, spectacular huge red rocks which balance on the edge of the cliffs above the turbulent waters of the Southern Ocean. We took many pictures of Admirals Arch, a natural geological formation carved into the granite by the forces of nature, the beautiful lighthouse, and the New Zealand fur seals in their colony on the rocks. (We learned the difference between sea lions and seals – sea lions walk on all four feet while sea lions only have two.) We then enjoyed another delicious gourmet lunch with wine out in the bush. We saw many more kangaroos on the open plains before we were returned to the ferry and the bus ride home.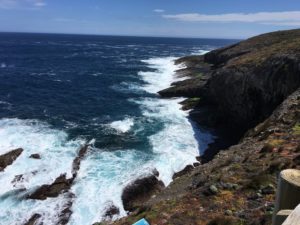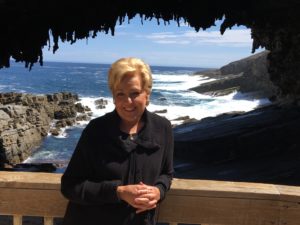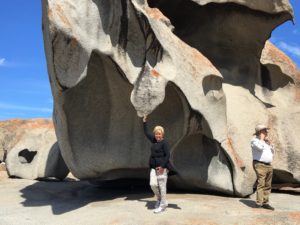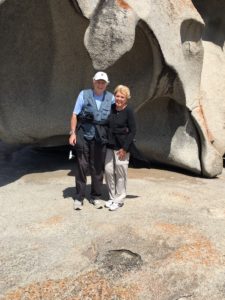 October 9 – This day almost killed us! After finally arriving home at almost midnight, we had to pack and be ready to be picked up again at 6:00 am. I only slept about an hour and ended up later in the week with a sore throat and cold. We flew from Adelaide back to Sydney and on to Cairns (pronounced "Cans") where we had another hour bus trip from there to Port Douglas, a resort town close to the Great Barrier Reef. That night we had dinner and fell into bed.
October 10 – We were so exhausted that we decided to take a day off and reschedule our tour for the next day. We were so excited that at this hotel, we were given the owner's suite, and we had a washing machine and even a dishwasher in our room! We slept late, did some laundry, then spent a leisurely day walking around the town (of course I did a little shopping, and had a fun lunch outside. That evening we enjoyed a spectacular dinner of Coral Trout at On the Dock on the water right where they bring the fish in. Interestingly, we learned that Queensland is known for mining (lithium, iron ore, copper, and opals), tourism, and sugar cane.
October 11 – Our guide picked us up for the scenic drive to the Daintree Rain Forest, World Heritage listed tropical rain forest, 230 million years old supposedly the oldest in the world. After a tea break, we took a short river cruise to spot crocodiles. However, we were disappointed to see only one called "Old ______.".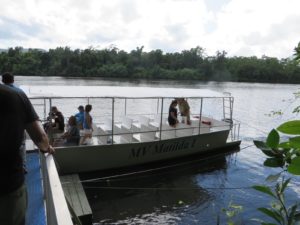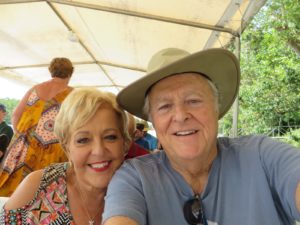 Two interesting things we learned about the wildlife here are that the male Cassawary, a huge bird that can be 6 feet high and can kill you with its feet, takes care of the eggs and the baby birds until they are 12 months old. HOORAY for male help! 😉 Also, the barramundi, one of my favorite fish, changes sex from male to female. She finds at least four males to mate with and the last one is the caretaker of the babies. Fascinating facts…….;-)
We walked along the National Park Boardwalk and experienced a view of the tropical rain forest merging with the Coral Sea. We stopped for a barbeque lunch where I had a most delightful experience. At lunch I ordered an Aussie beer. When I went to pay, neither of my credit cards would work, they would not take US money, and I had no Aussie cash AND had taken a drink of the beer while I was waiting……so now what was I to do???? Just then the lady behind me from Sydney said," Let me buy your beer." I was overwhelmed! Later that afternoon the bus stopped for homemade ice cream. Again, we found out it was cash only, so as we were leaving the line, she came over and gave Frank enough cash to get us the treat. Of course I will send her something from the US, yet her generosity is something I will never forget about the Australian people!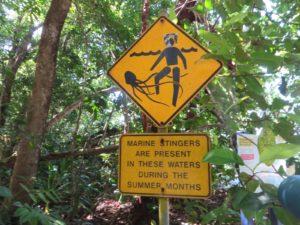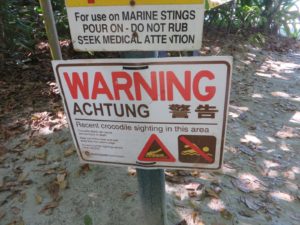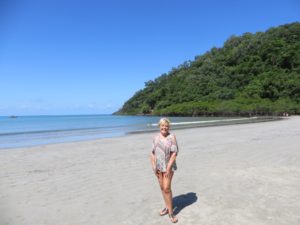 We then drove to Cape Tribulation Point, named because of all the problems Captain Cook had at this point in his journey. At Cape Tribulation Beach, two World Heritage sites intersect, one land and one marine. Afterwards I swam in Emmagen Creek. Unfortunately, they are in a drought, so the water was only about waist level. We enjoyed Billy Tea and damper and some rare and interesting tropical fruits. Finally, on the way back to the hotel we stopped for homemade ice cream from the native tropical fruits, a highlight of the day!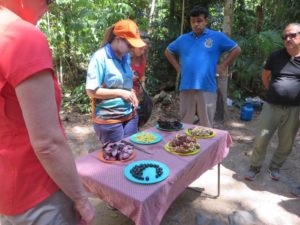 October 12 – Today we took a Quicksilver Outer Barrier Reef Cruise. I thought we were going to be on a small boat, but it was a huge catamaran and held about 300 people. It was a 90 minute trip to a section of the reef they had cordoned off, and there everyone was allowed to snorkel. It was a big disappointment for me after snorkeling in Fiji, but at least we can say we DID snorkel on the Great Barrier Reef. The reef is about 1800 miles long with about 600 species of fish and about 40 miles offshore from the mainland. The reef is suffering from "bleaching", coral dying due to the extraction tailings from various mining industries, so environmentalists are very concerned and trying to save it.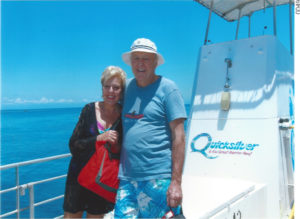 October 13 – We flew today to Townesville where we rented a car to spend three days with my niece, Katie, and her husband, Ashley. I was blessed to attend their wedding two years ago in Fiji. They live on a large acreage outside of town and are both marine biologists. We are excited that Katie is expecting their first baby in December. She met us at the airport and we followed her to the Aquarium where Ashley is doing shark research. After a tour, we drove to their home where we had fish tacos for dinner. We loved that they have four wallabies they have raised who live in their yard and come up every morning and evening to be fed. Katie says if they live their sliding glass doors open, they just come right in the house!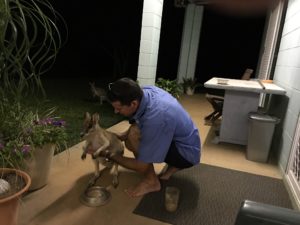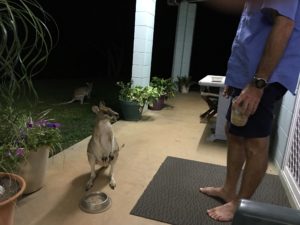 October 14 – The next day Frank and I were so exhausted that we slept until 1:00 pm! (Frank is usually up at 6:00 am, so you can see how tired we were ;-).) That afternoon Katie took us on a tour of the town, and we treated them to a fun seafood dinner on the water. It was so good to find out all about their lives in Aussie.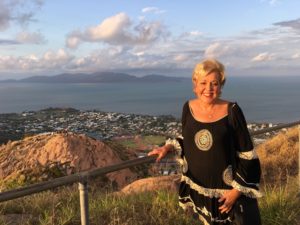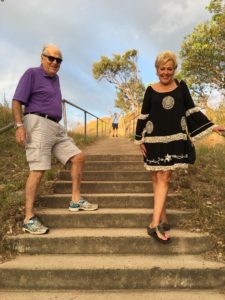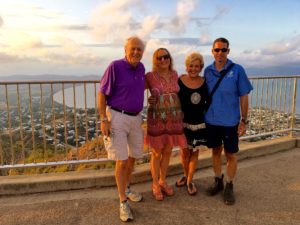 October 15 – Today we joined several couples of the kids' friends to have a picnic and attend an outdoor air show celebrating the 150th anniversary of the town of Townesville. They flew WWII airplanes and the Roulettes did a spectacular 6 plane show with P-38 Mustangs. Afterwards we watched the most amazing fireworks we have ever seen for 45 minutes. What a delightful day!
October 16 – Today we had another flight back to Sydney where we picked up our extra bags when we checked back into the Raddison Blu. We repacked, took a walk, had dinner, and an early night.
October 17 – We got up today and then headed back to the fish market for more fresh oysters! That afternoon three new speaker friends, Phil, Yvonne, and Ross, met us in the hotel lobby for wine and fun conversation. At 5:30 we left for my most favorite experience (besides the koala) of the whole trip – "Heroic Beethoven" at the Sydney Opera House. We were in Row X (only 24 rows in the whole theatre), and the acoustics were absolutely perfect – with no amplification. We had earlier had dinner at the Opera House restaurant which was lovely but expensive! 😉 What a fabulous ending to an amazing three weeks!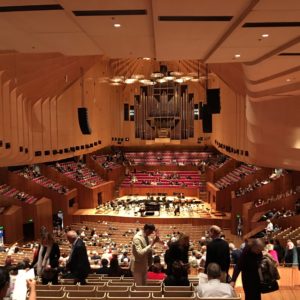 October 18 – We were picked up at 8:00 am for our flight home. This was a MUCH harder trip for us since we were leaving in the morning so could not sleep on the 15 hour flight to LA. When we arrived there (after LOTS of movies and food!), it was 6:30 in the morning, so everyone was up and ready to go! We did sleep a couple of hours on the flight to Atlanta, but the hardest thing was that when we FINALLY got to Atlanta, we had a 3 ½ hour layover before we could get our flight to Sarasota. It took both Frank and me over a week to sleep well and get our energy back again…….but would not change a thing about our wonderful trip.
We loved the country, the people, and the culture. I especially noticed how well dressed the people in the cities were and especially how respectful they were at the airport. People WAITED for their turns to board rather then crowding around the gate like they do in America. I truly could live in Australia!