I recently was blessed to experience an amazing trip to Croatia, Slovenia, Montenegro and the Dalmation Coast.  I will eventually write a journal on this trip; however, one of the most impressive experiences for me occurred in Split, a UNESCO World Heritage Site where the ruins of Diocletian's Palace, the third-century "retirement home" of the Roman Emperor, sits on the waterfront .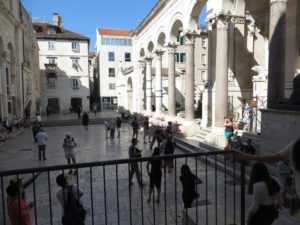 We had toured the ruins and then had some free time to shop which, of course, is one of my favorite things to do as I always want to bring back gifts for everyone.  I have never liked backpacks because I always think they make you look "nerdy," but my purse had gotten so heavy to carry that it was making my shoulder ache (and the strap eventually even broke), so I decided it was time to give in and find a backpack I could live with.  Actually, my body ached so much I was desperate!
Just behind the castle we found a local outdoor market where they had all kinds of merchandise.  In one of the first blocks of booths I saw a backpack with butterflies on it, so of course, that was the one!  I had just gone to an ATM that morning and still was unfamiliar with Kunas and the exchange rate, so when the vendor told me it would be 100 kuna, I dutifully counted out five 20 dollar kunas.
I gathered up the backpack and began to walk down the street when the vendor came running out and shouted in broken English, "Miss, too much!  Too much!"  He showed me that instead of five 20 dollar kunas, I had given him five 200 dollar kunas!  Oh, my, I had paid him TEN TIMES what the backpack cost!
I was astounded at his honesty.  I thanked him profusely and gave him a tip, but I couldn't help but think what might have happened in America.  I had left, was walking away and probably could never have found that same booth again, there were no witnesses who saw how much I had given him, and it was, literally, my word, a foreign tourist, against his, a local small business owner.  Sorry to say, but in most places in the world, I think I would have been the loser big time.
I left Croatia with a deep respect for the people, the culture, and their attitude about serving.
To learn more about Barbara's work, go to www.barbaraglanz.com