In this Issue: September / October 2015
Quotes of the Month
Where in the World is Barbara?
News at Barbara Glanz Communcations, Inc.
Article of the Month – "Spontaneous Treats-The Key to Employee's Hearts!
 Idea of the Month- "Kindness"
Product of the Month -"The Simple Truths of Appreciation"
Quotes of the Month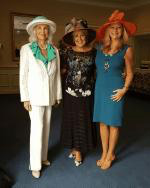 The mystery of human existence lies not in just staying alive, but in finding something to live for." ~ Fyodor Dostoyevsky, Author, "The Brothers Karamazov"
Every time you smile at someone, it is an action of love, a gift to that person, a beautiful thing.~ Mother Teresa
"You're never as good as everyone tells you when you win, and you're never as bad as they say when you lose." ~Lou Holtz Former Head Football Coach, Notre Dame
"Leadership is the ART of getting people to WANT to do what MUST be done." ~ Dwight Eisenhower
"Lack of direction, not lack of time, is the problem. We all have twenty-four hour days." ~ Zig Ziglar, Author, "Born To Win"
If you are taking care of your PEOPLE instead of taking care of your career, they will not let you fail.
"Against the assault of laughter, nothing can stand." ~ Mark Twain
"Our prime purpose in this life is to help others. And if you can't help them, at least don't hurt them."~ Dalai Lama
"Always remember that you are absolutely unique. Just like everyone else!"~ Margaret Mead
For more inspiring quotations, go to the top of every page of Barbara's website, www.barbaraglanz.com.
Brave girlfriends wearing our hats to church!
News at Barbara Glanz Communcations, Inc.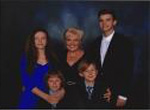 20 YEAR ANNIVERSARY OF BARBARA GLANZ COMMUNICATIONS, INC.
It was exactly twenty years ago this month that I started Barbara Glanz Communications, Inc., and what a blessing it has been! When I started the company, I simply prayed, "God, You gave me this gift, so this is Your company, and You put me where You want me to be." Oh, my, little did I know at the time that this work would take me to all 50 states and all seven continents!
I had been Manager of Training and Director of Quality in Training for Kaset International, a Times Mirror Company, for eight years. While I loved that job (we focused solely on training, consulting and measurement of customer service), I realized that we were training employees to be good to customers, but no one was caring about the employees themselves.
I had come to believe that you will never have happy customers without having happy employees, so I decided to start my own company with the focus on both internal and external service as well as helping organizations create a culture of passion, purpose and caring which at the time I called "Regenerating Spirit in the Workplace." (Now of course, it is called employee engagement.) Thus, I found my personal brand, "Spreading Contagious Enthusiasm™."
I want to thank all of you who have supported, encouraged, mentored and believed in me and my work over all these years. For a girl who grew up in a town of 4500 in Iowa, this has been an unbelievable and awesome journey……and it is still continuing! 😉
TESTIMONIALS AND PHOTOS NEEDED FOR NEW WEBSITE
I would be thrilled to have any of you who are willing send me two or three sentence testimonials either commenting on my speaking presentations or my books or my coaching to use on the new website.
We also need action photos, and I know many of your organizations have taken them when I have been speaking. It would be wonderful to have them on the new site as well. Just email to bglanz@barbaraglanz.com
FAMILY CRUISE to ALASKA
What an amazing time we had cruising to Alaska! There were ten of us – my three children, two spouses, and four grandchildren. IT was the first time we had ever taken a formal family trip, so everyone was excited from ages 7 to 70. Not only did we enjoy special sharing times on the ship, but we saw amazing scenery and wildlife, especially the day that nine orca whales swimming in a pod all leapt out of the water in a line at the same time. We saw three kinds of whales, otters, sea lions, and a huge group of bald eagles, but the best news of all was that we were all still talking to one another when the ship docked! 😉 I hope all of you had a restful and fun-filled summer.
To send your testimonials and photos, email to bglanz@barbaraglanz.com
[Photo: Barbara and her grandchildren on the Alaska cruise]
Idea of the Month- "Kindness"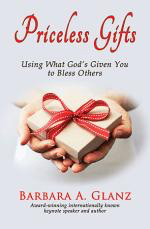 This story is excerpted from Barbara's newest book, "Priceless Gifts – Using What God's Given You to Bless Others."
Kindness
By Nancy Coey,
Raleigh, North Carolina
Reprinted with permission from "Finding Gifts in Everyday Life"
It's the middle of August and very, very hot. I'm driving home from a speaking engagement. It's a six-hour drive and I'm exhausted. Not just from the drive, but from very little sleep the night before. Anticipating the talk, and unable to get the motel temperature right, I was awake most of the night.
Groggy and spacey, now. Driving in a fog.
Pull into a rest stop and head right for a soda. Fumble forever with the coin changer: first put the bill in upside down, then in the wrong direction. Finally get change, then stand in front of the drink machine and cannot figure out where the coins go. It's as if my battle with the coin changer has taken every last bit of mental energy I have. Tentatively move my arm once or twice toward the machine, then just stand, confused.
A voice says, " Here, ma'am, this is where the coins go." And a very large hand points to the spot. I look over and in front of me is the sort of person I usually ignore: diesel cap; large belly hanging over his belt; cigarette dangling from his lips. He sees my surprise – or fog – and says almost contritely, "I didn't mean to be smart, ma'am. It's just sometimes these machines can be tricky."
Yes, sometimes they can.
And sometimes even putting one foot in front of the other can be tricky. And sometimes we are showered with kindness in unlikely places, in unlikely ways, by unlikely people.
Is there a lesson here?
THOUGHT TO PONDER: Be open to kindness in the strangest of places-and be a carrier!
Order a copy of this book.
Where in the World is Barbara?
WHERE IN THE WORLD IS BARBARA?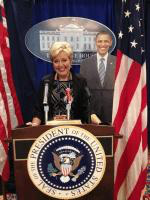 SEPTEMBER
September 24 – 26 Guideposts Cabinet Meeting, Dana Point, CA
OCTOBER
October 4 – 6 Hold, Orange County Speakers Bureau, Dallas, TX
October 13 Yogurtland, Carlsbad, CA
October 14 – 17 San Diego, CA
October 20 – 21 OU Medical Systems, Oklahoma City, OK
October 28 Hold, Eagles Talent, CO
October 29 – 30 Maryland Tourism Coalition, Ellicott City, MD
October 31 – November 1, Atlanta, GA
NOVEMBER
November 4 – 11 Portland, OR
November 9 NSA Oregon
November 12 Live Interview with Mike Byham, Terryberry
November 17 – 18 Oounty of York, PA
November 23 – 25 Charlotte, NC
November 26 – 28 Hickory, NC
DECEMBER
December 4 – 5 NSA New Orleans
December 5 – 6 Hattiesburg, MS
December 22 – 29 Portland, OR
[Photo: Barbara having fun at a convention in Washington D.C.]
See Barbara's current calendar.
Article of the Month – "Spontaneous Treats-The Key to Employee's Hearts!
SPONTANEOUS TREATS–The Key to Employees' Hearts!
(Some ideas were excerpted from Barbara's book, "CARE Packages for the Workplace–Dozens of Little Things You Can Do to Regenerate Spirit at Work.")
Employees need to feel appreciated. They need to be managed on both the Human and the Business levels. We also know that happy employees are more productive employees. One of the most special ways a manager can fulfill some of these needs is to surprise his or her employees with a treat.
Here are some delightful suggestions of ways to do that:
* When the air-conditioning broke down on one of the hottest days of the year, the manager of a teleservices center ran out to the local grocery store and bought popsicles for every employee. They then had a "stripping" ceremony where everyone took off their ties, rolled up their sleeves, and shed their shoes! The manager turned a horrible day into one that will long be remembered with a smile.
* Another organization has a random"surprise treat" day once a month. On that day the managers do things like renting a popcorn machine or serving everyone coffee and donuts at their desks or "borrowing" an ice cream cart and delivering ice cream bars throughout the building. It is a special way of saying "Thanks for doing such good work."
* One facility in Lake Forest, Illinois, handed out "Good Stuff" candy bars with the following poem:
Such "Good Stuff" we have seen today
Positive attitudes go a long way.
Let's try to keep it up awhile . . .
A cheerful word, a happy smile.
It does affect our quality
So let's be the best that we can be.
The "Good Stuff" we have seen today
Can help us go a long, long way!"
Think of all the fun things you can do with different kinds of candy — Payday, Extra, Snickers, $100.000 Bar, Skor, Bar None and almond JOY. Just go to the candy aisle and let your creative juices flow.
* The Director of the ABC Nursery and Day Camp in Chicago, Illinois, was anticipating a hard day because two of her teachers were going to be out sick. On her way to work she stopped at the store and bought Nestle's Crunch bars. When she arrived at work, she placed a Crunch bar on each teacher's desk with a note, "Thanks for helping out in the Crunch!" She says it was one of the best days they had ever had.
* Another manager, during the middle of tax season in his accounting firm, put a package of Lifesavers™ on each of his employees' desks with a note saying, "Hang in there–only 21 more days to go!" That small treat gave everyone the enthusiasm to keep on going with a smile.
Have you ever cooked breakfast for your employees as a celebration for their great work? It is true for most everyone that food is the key to our hearts! And when it is a surprise, it delights us even more, especially when it comes from our leaders.
(One fun P.S. about food in the workplace: Think about hosting a pot luck and have everyone bring the food they HATE the most. That will make everyone laugh, and they will also find out that other people may love the very thing they hate! 😉 We ALL need to have more fun at work. )
BARBARA GLANZ BIOGRAPHY
For free articles you can use in your company newsletters and an archive of dozens of immediately applicable "Ideas of the Month," go to www.barbaraglanz.com/articles. Barbara Glanz, CSP and Hall of Fame Speaker, works with organizations that want to improve morale, retention, and service and with people who want to rediscover the joy in their work and in their lives. She is the author of "The Simple Truths of Service As Inspired By Johnny the Bagger;"" The Simple Truths of Appreciation – How Each of Us Can Choose to Make a Difference;" " Balancing Acts; " " Handle with CARE—Motivating and Retaining Employees" "CARE Packages for the Workplace–Dozens of Little Things You Can Do to Regenerate Spirit at Work;" " CARE Packages for the Home" " CARE Packages for Your Customers;" "Priceless Gifts," and What Can I Do? Ideas to Help Those Who Have Experienced Loss." As an internationally known speaker, trainer, and coach who has a Master's degree in Adult Education, Barbara lives and breathes her personal motto: "Spreading Contagious Enthusiasm™." She has presented on all seven continents and in all 50 states.
Product of the Month -"The Simple Truths of Appreciation"
"Appreciation is a FREE gift." ~ Barbara Glanz
With Thanksgiving and Christmas coming up soon, this beautiful book makes a lovely and meaningful gift for anyone whom you want to thank — a friend, a family member, a teacher, a co-worker, or all your employees. It is filled with gorgeous pictures, meaningful quotations, and stories and ideas that will inspire every reader to reach out and appreciate the people they encounter every day.
Here is a precious story from the book:
'One snowy February day I walked into the Ladies washroom at O'Hare Airport. There was a woman there who was cleaning. She was all hunched over, glum-looking, and listlessly going through the motions of her job. I walked over, gently touched her on the arm, looked her directly in the eyes, and said, "Thank you so much for keeping this washroom clean. You're really making a difference for all of us who travel."
She stopped what she was doing, looked at me with wonder in her eyes, immediately straightened up, and began cleaning with a passion, a huge smile spreading across her face. By the time I left, she was passing out towels to all the women who were washing their hands!
I left that washroom with tears in my eyes because that interaction had cost me nothing. However, it changed her life, at least for a few moments. My appreciation of her and the value of her very important work gave her a purpose and a reason for being. SHE WAS MAKING A DIFFERENCE!
Each one of us can help those people in the world around us, whether it is in our workplaces, our homes, or as we go through the daily interactions of our lives, to feel appreciated and valuable. Appreciation is a free gift that you can give to anyone you encounter – it is completely your choice. And each time you choose to thank someone for a job well done, you are making this world a bit better place.
This quotation from Mother Teresa sums up the way I choose to live my life: 'Be kind and merciful. Let no one ever come to you without coming away better and happier.' THAT is the gift of appreciation!
Order your copies here or call 941-312-9169