In this Issue
Quotations of the Month
Where in the World Is Barbara?
News at Barbara Glanz Communications, Inc.
Idea of the Month – Support our Troops
A Customer Service Story from Delta Airlines
Product of the Month – "Priceless Gifts – Using What God's Given You to Bless Others"
Quotations of the Month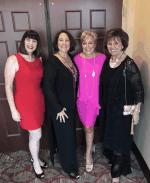 "The highest reward for a person's toil is not what they get for it, but what they become by it." ~ John Ruskin
"May I never miss a sunset or a rainbow because I am looking down." ~ Sarah June Parker
"I would sooner live in a cottage and wonder at everything than live in a castle and wonder at nothing." ~ Joan Winmill Brown
"There is a sacredness in tears. They are not the mark of weakness, but of power. They speak more eloquently than 10,000 tongues. They are the messengers of overwhelming grief, of deep contrition, and of unspeakable love." ~ Washington Irving
"The great challenge of adulthood is holding on to your idealism after losing your innocence." ~ Bruce Springsteen
"My idea of living dangerously is going grocery shopping without a list."
"Never forget the nine most important words of any marriage: I love you. You are beautiful. Please forgive me." ~ H. Jackson Brown
"The most important thing to do if you find yourself in a hole is to stop digging." ~ Warren Buffet
"My business is not to remake myself, but to make the absolute best of what God made." ~ Robert Browning
"Be cheerful. Of all the things you wear, your expression is the most important."
"I'd rather one should walk with me than merely show the way." ~ Edgar A. Guest
"Every person that you meet knows something you don't; learn from them." ~ H. Jackson Brown
"Love means to love that which is unlovable or it is no virtue at all; forgiving means to pardon that which is unpardonable, or it is no virtue at all – and to hope means hoping when things are hopeless, or it is no virtue at all." ~ G.K. Chesterton
More inspiring quotations can be found on every page of Barbara's web site.
News at Barbara Glanz Communications, Inc.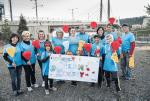 NEW NEWSLETTER VENDOR IN JANUARY
In January we will be starting with a new vendor for our newsletter, so everyone will be receiving a "new subscriber" email. IF you want to continue to receive this newsletter, please re-subscribe when you receive it. If you forget, you can always re-subscribe on my website as well.
LEUKEMIA WALK -PORTLAND, OREGON, OCTOBER 14, 2017
Many of you know that my 16 year old grand daughter, Kinsey, has been suffering from Leukemia since July of 2016. Although she is through the worst year of treatment, she still has two more years of chemo one week a month. She missed her sophomore year in high school last year, but is currently making it up in Seattle. On October 14 the whole family, along with hundreds of other people, joined her in walking across one of the beautiful bridges in Portland to raise money for leukemia research. She was thrilled that over 50 people donated more than $5000 in her name. Please continue to keep her in your prayers for healing. It was a very emotional, yet rewarding experience to share this time with her.
NEW CLIENTS
What a delightful fall I have had speaking to several new clients. I am so impressed with Express Professional Services, the largest employment agency in the nation. Their mission is "to put a million people to work a year," and they refer to their work as an "employment ministry." I have been honored to speak to three different regions of their company. On the last morning of the conference, they always have an optional prayer breakfast, a tribute to the values of the company.
Another new client is Peoples Bank in Lubbock, TX. Not only did they give me as a "gift" to kick off a new venture they are supporting for professional business women, but they also ordered customized copies of the new business version of "The Simple Truths of Service Inspired by Johnny the Bagger®" for every attendee. I love the dedication and spirit of service of the people at the bank and the ways they are giving back to their community.
The most fun audience of the year was NEOGOV in Las Vegas, a company that provides Human Resource software. I especially am impressed with their on-boarding software which includes sections for the organization's mission, values, and "Life at our Company." What a great beginning for new employees to understand the culture of the company at the start! I signed over 100 books that day as well as receiving such precious affirmation – just wish I could have recorded all the positive words! These folks have HUGE hearts and a real sense of mission about their very important work.
And finally, there was RLO Training, such a warm and enthusiastic audience. They are an organization of peer groups made up of auto repair shop owners from all over the US. What touched me most was that when the president came up to close the meeting after I had finished the closing keynote, he was so choked up that he could hardly speak. I am so grateful that my words and stories can reach people at both a head and a heart level – what a blessing this work is!
AMAZING TRIPS (Personal news)
In August I had a lovely trip to Spain, Portugal and Gibraltar with my friend, Frank. We stopped at many ports along the coast, and although they lost our luggage for three days, Delta did reimburse us for the clothes we needed to buy in the interim. We arrived in Barcelona the day after the terrible massacre, yet although our hearts ached for the victims, we still were able to enjoy the spirit of that wonderful city, especially the Gaudi architecture and the tango shows.
In early October we spent a week in the Grand Tetons and Yellowstone National Park, touring the interesting geysers and the Grand Canyon of the Yellowstone as well as seeing lots of bison and deer. What gorgeous scenery in that whole area! We ended with three days at a friend's ranch in Jackson Hole, WY . What an amazingly beautiful country we are blessed to live in!
Visit Barbara's web site for more information about Barbara. 
A Customer Service Story from Delta Airlines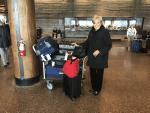 Last week I was scheduled to fly Delta from Sarasota through Atlanta to Las Vegas to speak there the next day. Two weeks before the flight was to leave Delta suddenly changed the schedule, and as a result, even though I had purchased the ticket two months before, I lost my priority seating. By the time I called them the next day, all the seats in Delta Comfort were gone.
Since I am a Million Miler on Delta and also Diamond, the highest status, I am spoiled and was not happy about sitting in the very last row of seats in the plane, especially when I had paid $1400 for the ticket!
After I was seated, a lovely New York based flight attendant named Marianne Micheletto was talking with me while everyone boarded, and I told her my sad story. Later as she came around with the food cart, she said to me, "What would you like? It is on me." So I had a nice cheese and fruit tray. Then, when she came again with the drink cart, she treated me to a white wine.
Now when you are in the back of the plane, you get nothing except pretzels and a soft drink, so she truly went above and beyond to make up for my displeasure with Delta. I was delighted!
A little while later I had gone back to the lavatory when I spied a package of my favorite potato chips on the counter (which you always get in First Class and Delta Comfort), so I asked another flight attendant if I could have a bag. She said, "Oh, no, these are just for the people in the front." What a CONTRAST to Marianne! Later Marianne sneaked back with the chips for me with a huge grin – even she could not believe the other attendant.
It turned out that across the aisle from me were some young guys going to Las Vegas for a bachelor weekend before one of them got married, so they were having a gay time, and Marianne and I had such fun talking with them. Funny – because of Marianne and the guys, I actually had a better time in the back of the plane than if I had sat up front!
Finally, as I was getting ready to leave the plane, Marianne came over and gave me a hug and told me she was putting 5000 airline miles into my account to make me even a happier Delta customer. I was blown away by her caring and her attention to me, and I will certainly remain a loyal Delta customer, all because of Marianne!
Read more interesting stories and articles in the Articles section of Barbara's web site.
Where in the World Is Barbara?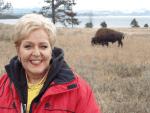 AUGUST
7 – 8 Bilbao, Spain
9 Gijon, Spain
10 Santiago De Compostella
11 – 12 Lisbon, Portugal
13- 14 Gibraltar, UK
15 Alicante, Spain
16 Ibiza, Spain
17 Minorca, Spain
18 – 21 Barcelona, Spain
24 – 27 Front Royal, VA
SEPTEMBER
13 – 15 Lubbock, TX
22 – 23 Novi, MI
29 – 30 Minneapolis, MN
OCTOBER
3 – 6 Yellowstone National Park
7 – 10 Jackson Hole, WY
11 – 17 Portland, OR
26 – 27 Las Vegas, NV
28 – 30 Atlanta, GA
NOVEMBER
1 – 2 Las Vegas, NV
12 – 18 Queen Mary II from New York to London
19 – 21 London, England
DECEMBER
15 – 18 New York, NY
22-28 Grand Junction, CO
See Barbara's most up to date calendar in the Calendar section of her web site. 
Idea of the Month – Support our Troops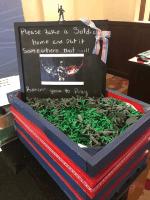 When I checked into a hotel in Michigan recently, there was a box on the counter filled with tiny green army soldiers. On a sign above the box, it read, "Please take a soldier home and put it somewhere that will remind you to pray for our troops."
I LOVED this idea and since then, I have shared it with many of my clients. How I would love to see many other organizations adopt this idea!
Visit Barbara's Idea Archive for more ideas.
Product of the Month – "Priceless Gifts – Using What God's Given You to Bless Others"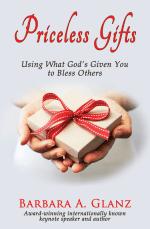 With the season of Thanksgiving approaching, you will love this inspirational book about the joys of Giving and Receiving. It will touch your heart with dozens of real life, positive, low-cost or no-cost, immediately actionable ideas of things people all over the world have done for one another. It truly is more blessed to give than to receive!
This is a book from my heart and will help you find many more simple, creative ways YOU can make a difference every day with chapters such as: Angel Gifts, Anonymous Gifts, Gifts of Friendship, Love & Support, Humorous Gifts, Labors of Love, Little Things Mean a Lot, Life Changing Gifts, Memorial Gifts, Pass-It-Along Gifts, Practical Gifts, Romantic Gifts, Gifts of the Spirit, Gifts of your Talents, Treasure Gifts, and the Gift of Words.
Order your copy today and/or send it as a gift to those people in your life who have given special gifts of love and caring to you. $17.99 plus postage.
Order your copy in the Books section of  Barbara's Products.