In This Issue: June / July 2015
Quotations of the Month – From "Lessons of a Turtle"
Where in the World is Barbara?
News at Barbara Glanz Communcations, Inc.
Idea of the Month – Whenever You Can, Offer the Customer Options
How One Person Can Make a Difference!
Product of the Month — Set of 8 Laminated Posters
Quotations of the Month – From "Lessons of a Turtle"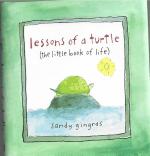 I love these reminders(and the precious illustrations) from a book by Sandy Gingras called "Lessons of a Turtle (the little book of life)":
* Sometimes it's hard to get over yourself.
* Protective shells are all well and good, but they make it hard to dance close.
* How did time-out become a punishment?
* There are lots of times when you have to slog through the mud.
* The slower you go, the more you see.
* Home is within.
* You can't move forward until you stick your neck out.
* The most interesting lives are somewhat checkered.
* Ick happens.
* You wouldn't feel so stuck if you could see the whole picture.
* You leave a mark wherever you go.
* Don't be a jellyfish.
* The end of the story is never the end of the story.
SPEAKING AT THE SOCIETY FOR HUMAN RESOURCE MANAGEMENT NATIONAL CONVENTION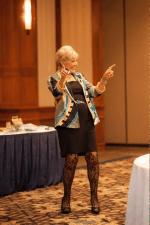 Since 1997 I have been blessed to have been rated one of the top speakers at the national SHRM conference. This year it is being held in Las Vegas June 28 – July 1.
If you are coming to SHRM, please stop by either of my sessions or at my book signings directly afterwards. HR folks are some of my most favorite audiences!
RECENT TRIP TO ITALY, FRANCE and SPAIN
I was blessed to travel in May and early June to Europe to celebrate my birthday, May 24. My friend, Frank,and I spent 3 days in Rome, then cruised from Rome to Barcelona, and spent 2 1/2 days in that wonderful city. The ship stopped in Palermo (Sicily), Naples (Island of Capri and Pompeii), Livorno (Florence), Genoa (Milan), and Toulon (Aix en Provence).
Highlights were the Vatican, the Colosseum, the Forum, the Pantheon, the pasta, pizza and WINE (Rome); the Cappuchin Catacombs and Oratorios in Sicily; shopping on the Isle of Capri and seeing the ruins of Pompeii and Mt. Vesuvius; the David and the Uffizi in Florence; La Scala in Milan; and of course the Gaudi buildings in Barcelona. Barcelona has now become my favorite city in the world! I will be writing a journal soon about each day of the trip, so keep an eye on my blog, www.barbaraglanz.com/blog.
FAMILY ALASKAN CRUISE
I am excited to take all my children and grandchildren on a special family trip July 5 – 12. We are leaving from Seattle on a Holland America cruise to Alaska. While there, we are going to take a seaplane from the shore to a glacier and lodge for a salmon lunch in Juneau, do a wildlife otter, seal and whale excursion in Sitka and a Bering Sea Crab adventure in Ketchikan. We are hoping for good weather and calm seas!
How One Person Can Make a Difference!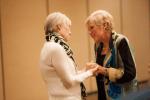 This is a precious story that Nate Ehlert shared with his father, John, about something we ALL can do for the people we meet in need in our lives. Thanks, Nate, for your huge heart and for sharing this story!
"Dad,
Ask your friend if she has ever heard of Streetwise. It's an organization in midwest cities that employs people trying to get back on their feet. The vendors buy the papers for a discounted price and then sell them for any "donation" people want to give. They work at the factory in a variety of jobs, and some even end up writing for the paper itself. They want to give people a hand up, not a hand out.
When I moved to Chicago, I met one of the vendors who worked outside the Depaul Dominicks (grocery store)at Sheffield and Fullerton. I would talk to him for 5-10 minutes when I would see him there on Wednesdays and Fridays and would buy a paper and get him a sandwich and soda from the grocery store. This then turned to water after his diabetes got so bad that his doctors told him he had to stop drinking soda or he would have serious health complications.
Tyrone and I had great conversations many times. He was in and out of jail many times, but had been clean and sober for over 20 years. He had lost touch with his kids over the years, but had finally gotten a place of his own and reunited with his daughter. He worked in the loading docks at Streetwise and then sold his papers around the city during the week. Other vendors would try to sell around DePaul, but everyone knew that was Tyrone's territory. Like everywhere else, there are good Streetwise vendors and bad ones – Tyrone was one of the good guys.
I remember the summer that Mom let me take the Mercedes to Chicago. It was a very hot and rainy summer, more than usual in Chicago. I was driving past his corner, on my way to go to my friend's place, when I saw Tyrone standing in the pouring rain outside the Dominicks. I stopped to chat, and he immediately recognized me and asked how I'd been and how things were going, etc. He was waiting for the bus to come, but the rain had slowed the buses down, so I offered to take him home. We threw his bike in the back of the car, and I drove him to his daughter's place where he was meeting her and her family for dinner. Another time that summer I drove him to the Streetwise headquarters.
I started to see Tyrone less and less on that corner over the next year. His diabetes had gotten worse and he was getting sicker and sicker, but every time I saw him, I always made sure to get a paper and take the time to ask him about his day and how things were going; because I know that's exactly what Tyrone would have done if the situation were reversed. Then I never saw him again. One day I asked the other Streetwise vendor where Tyrone was, and he told me he had passed away from complications from diabetes. We both talked about what a great and friendly guy he was and what an interesting life he led.
Later that week I contacted Streetwise and donated $1,000 to them in Tyrone Corbin's name. He is the reason I give money to people that need help, and more importantly, to anyone selling a Streetwise paper on the streets of Chicago.
So if you are ever in a city that has Streetwise Papers or Salvation Army kettles, throw some cash in for Tyrone."
For more interesting articles you can use in your company newsletters, go to www.barbaraglanz.com/articles.
Where in the World is Barbara?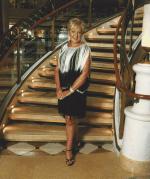 MAY
May 7 -8 Nashville, TN
May 9 – 10 Atlanta, GA
May 10- 13 Montego Bay, Jamaica
May 27 – 30 Rome, Italy
May 31 Sicily
JUNE
June 1 Tunis/ Carthage
June 3 Florence, Italy
June 4 Genoa, Italy
June 5 Toulon, France
June 6- 8 Barcelona, Spain
June 29 – July 1 Society for Human Resource
Management, Las Vegas, NV
JULY
July 1 – 3 Portland, OR
July 4 — Seattle, WA
July 5 – 11 Alaska Cruise
July 12 – 13 Portland, OR
July 17 – 22 NSA, Washington, DC
July 22- 24 Frankford, DE
AUGUST
August 6-7, Willow Creek Global Leadership Summit, Naperville, IL
August 7 – 9, Mastermind Retreat, Naperville, IL
August 27 – 30 Veteran Speakers Retreat, Washington, DC
SEPTEMBER
September 24 – 26 Guideposts Cabinet Meeting, Dana Point, CA
September 29 Hold, UNFI, Baltimore, MD
OCTOBER
October 4 -6 Hold, Orange County Speakers Bureau, Dallas, TX
October 17-18, Lead Like Jesus Board Meetings, Dallas, TX
October 30 Maryland Tourism Coalition, Ellicott City, MD
For a more current calendar, go to www.barbaraglanz.com/calendar
Idea of the Month – Whenever You Can, Offer the Customer Options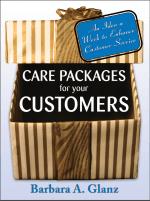 This idea is excerpted from Barbara's book, "CARE Packages for your Customers — An Idea a Week to Enhance Customer Service:"
WHENEVER YOU CAN, OFFER THE CUSTOMER OPTIONS
THE IDEA:
Whenever we offer someone options, we are respecting them as an individual and allowing them to make their own choice.
THE IDEA IN ACTION:
My children are all very independent persons and have wanted to make their own choices since they were very young. One of the ways I solved the battle of getting dressed in the morning for my daughters especially was to put out three different outfits, always making a big deal out of letting them choose which one they wanted to wear. They may not have been thrilled with any of the three, but at least they had a CHOICE. (This way I also avoided the humiliation Moms can experience when their precious little ones go to school in completely unmatched outfits! 😉
Customers, too, are independent and want to have things their way. Often our policies and procedures make the customer feel powerless. Think about how you feel when you feel powerless. For most of us, it brings about feelings of anger, resentment, revenge, and helplessness. These feelings, unfortunately, often get expressed to the customer service rep or even worse to everyone they know.
One of the ways we can show respect to our customers and give them feelings of being in control is to offer them options or alternatives. Then whatever action is taken becomes their choice. Just like my children, they may not be thrilled with any of the choices, but at least they do not feel completely helpless, and they have some say in the outcome.
Think about situations that come up over and over with customers and list several options you might offer for each of those encounters. The option may be as simple as how they would like an item shipped or as complicated as several different choices to resolve a difficulty.
For example, when a vendor in another city lost the only master of one of my audio CDs and could not make the copies I needed on time for a very important client, instead of just saying he could not do what I needed, he gave me several options:
1. He would contact the company that had taped the session and pay for a new master and then overnight the copies to the client at his expense.
2. I could take a copy I had to a local vendor to have it copied, and he would pay the cost.
3. He would copy another CD master of mine at his expense and send it to the customer with an apology and an assurance that they would receive the original order in two weeks.
Needless to say, even though he had caused me a huge problem, he offered me options that more than satisfied me and insured that I would be an ongoing loyal customer!
Now you think of a difficult SITUATION from your organization:
What are some OPTIONS you could offer:
TIPS FOR IMPLEMENTATION:
The key to offering options is to think "out of the box." Get your creative juices going and find new, creative ways to solve customer's problems. Often an unusual, creative solution will surprise and delight your customers and will also diffuse their anger and feelings of helplessness so they leave with an even more positive experience than they had expected. Always focus on what you CAN do, not on what you can't do and remember that even if you cannot meet the customer's exact business need, you can always meet their need for someone to really care and try their best to help.!
To order this book, go to www.barbaraglanz.com/products/books/. For an archive of Ideas of the Month, go to www.barbaraglanz.com/ideas
Product of the Month — Set of 8 Laminated Posters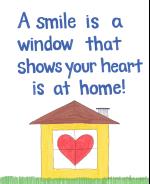 These hand drawn laminated posters will brighten your halls, offices, or community room with uplifting sayings and colorful graphics. Order a set or each one individually.
Special pricing available — Call 941-312-9169.
To view the posters, click here. To order, call 941-312-9169.