In This Issue:
A New Year and a New Beginning
New Edition of "The Simple Truths of Servic
 Article of the Month– "The Game of Life"
News at Barbara Glanz Communications, Inc.
Idea of the Month – Ten Easy Ways to Show Kindness
Where in the World Is Barbara?
A New Year and a New Beginning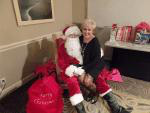 "Credo for the New Year"
I believe
That I enter a glorious new year
To be filled with prayer and praise.
With service to God and mankind,
With inspired creative activity.
I believe
That God's presence goes with me
Wherever I shall go this year,
By train or plane or car or boat,
Slowly paced on foot, or high in air.
I believe
His love is shining in my body,
His wisdom guides my mind,
His peace fills me with poise,
His strength is ever at my call.
Oh I believe
That this is God's new year.
—- Elizabeth Searle Lamb
"If we fill our hours with regrets of yesterday and with the worries
of tomorrow, we have no today in which to be thankful."
"Use what talents you possess; the woods would be very silent of no
birds sang there except those that sang best." 
– Henry Van Dyke
"We would be well on our way to perfection if we could weed out one
vice from ourselves each year."
– Thomas a'Kempis
"My business is not to remake myself, but to make the absolute best
of what God makes."
– Robert Browning
"Optimism is the faith that leads to achievement.  Nothing can be
done without hope and confidence."
– Helen Keller
For more inspiring quotations, go to the bottom sidebar of every page on
Barbara's website, www.barbaraglanz.com.
New Edition of "The Simple Truths of Service"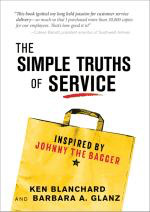 Recently Simple Truths was purchased by Sourcebooks, a much larger publishing company.  February 7 they will release a brand new hard cover trade edition of "The Simple Truths of Service" which will be featured in airports and bookstores.
Since the original version sold over half a million copies, we are thrilled that many more people will be exposed to this precious story of how one person can make a difference.
"This book ignited my long-held passion for customer service delivery – so much so that I purchased more than 30,000 copies for our employees. That is how good it is!"
– Colleen Barrett, president emeritus of Southwest Airlines
Order your pre-publication copy for $14.99.
Article of the Month– "The Game of Life"
Over the Christmas holidays in Portland, Oregon, one day I played "The Game of Life" with my precious nine year ld grandson, Simon, for five hours. Not only did we have a delightful sharing time, but it also got me to thinking about the REAL game of life.
Like the board game, our lives are a journey with lots of choices along the way and special "paydays" as well as obstacles to overcome. However, when the board game ends, as John Ortberg wrote, "It all goes back in the box!" Not so with our lives, yet we can always have a new beginning whether it be each moment, each day, or especially each new year. Since this is the beginning of a new year, I have been pondering my "game" and how I want to "play" it this new season.
First of all, I always choose a theme for my year. This year I have decided my theme will be SIMPLIFY. Not only am I feeling bombarded with communications and media, but my home is overflowing with paper and "stuff." I am struggling to find quiet time, exercise each day, and eat right. And I find I am spending so much time on things like email and sorting piles that I am neglecting relationships that enrich my life and uplift my soul. I need to change the rules of the game!
One of my books a few years ago is titled, "Balancing Acts – More Than 250 Guiltfree, Creative Ideas to BLEND your Work and your Life." In it I talk about my belief that we will never in our lives be in perfect balance, so we need to let go of the guilt and think about ways we can blend areas of our lives into the place we may find ourselves at the moment.
Think about these six areas of your life: Work, Family, Friends, Health, Spirit and Service. Where are you spending the bulk of your time and energy today? For most of us, it is on our work, so how can we find ways to "blend" other areas into our work lives. And for me, at the same time, to SIMPLIFY my life so that I have time to enjoy each moment of the game.
Here is my game plan which I hope might encourage you, too:
WORK – I am going to do email ONLY three times a day and I am going to unsubscribe to most of the ongoing emails I receive daily. I am also going to commit to sorting one pile of papers each day for 15 minutes.
FAMILY – I am going to schedule a weekly facetime call with each of my children and grandchildren. Sometimes our calls are sporadic and I feel out of touch with their daily lives.
FRIENDS – I am going to call one person each day whom I miss or whom I would like to know better. These can be either work or personal relationships.
HEALTH – I am committing to forgoing wine with dinner ( at least until I lose 10 pounds! ;-), not eating things that taste good but are unhealthy, and at least 30 minutes of exercise each day.
SPIRIT – I am scheduling a quiet time each day, either morning or evening, and renewing my meditation practice to find more focus and peace in my life.
SERVICE – I am going to begin to sing in my church choir as well as writing one encouraging note or card to someone at least three times a week.
In the meantime, I am committed to giving many things away, books, clothes, knickknacks, and other things that have brought me joy so that someone else may have that experience, too.
Please wish me well with this project of simplifying as I am a very sentimental person, so letting go is hard for me. Yet I know the PEACE it will bring to my life when I do not feel burdened by things around me and time spent on frivolous pastimes. Truly, relationships are the most important gift we have in this precious game of life before it all REALLY goes back in the box.
Now, LET THE NEW GAME BEGIN!
Go to Barbara's Articles for more interesting articles you can use in your company newsletters.
January/February Issue Of Speaker Magazine Features Barbara And Three Other Speaker Legends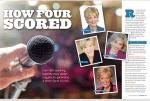 Barbara was honored to be included as one of four speakers featured in "Speaker" Magazine in the January/February issue.  The article, by Marquesa Pettway, is titled, "How Four Scored – Four Speaking Legends Share Golden Nuggets for Generating a Seven-Figure Income." In it she shares how she created an international speaking business to help organizations worldwide create more caring and productive workplaces. You can read the article here.
She was also interviewed by Marquesa as a part of the article. You can watch the short video interview here.
Idea of the Month – Ten Easy Ways to Show Kindness
Make a short visit or take a small plant to an elderly neighbor, retired employee, widow, or person in your church or community who is alone.
Watch for your mailman, custodian or garbage collector and offer them a cold (or hot) drink.
Ask to speak to the manager of a store about an employee who has done a good job.
See if you can make eye contact and smile at everyone as you go down the hall or the street.
Graciously thank people who are cleaning the streets, the restrooms, and the offices in your community.
Buy a co-worker or any person in uniform a cup of coffee as a "thank you."
Offer to help young mothers with children by holding doors, carrying packages or groceries, or entertaining the children for a moment.
Quietly slip some money into the pocket of a friend or co-worker who needs it.
Ask to take a picture of the couple or the whole group when you see someone taking a photo of others.
Call a fellow employee or person whom you know has been sick just to see how they are.
For more creative ideas you can use in your organization, order
Barbara's book, 180 Ways to Spread Contagious Enthusiasm.
Where in the World Is Barbara?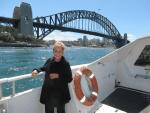 For three weeks this fall, I toured the amazing continent of Australia, meeting speaker friends in each city. It was a fabulous trip, starting with Sydney, then Melbourne, Adelaide, Kangaroo Island, Cairns, Port Douglas, and Townsville. I got to hold a koala, feed kangaroos, snorkel on the Great Barrier Reef, and hear Beethoven at the Sydney Opera House. You can read my journal of the trip on my blog.
In March I am traveling to the Holy Land with our pastor who has led trips there over 20 times. He is also an archaeologist, so that will add an extra slant to the trip. We will visit Petra, Galilee, Nazareth, Jerusalem, Bethlehem, and Masada as will as many other sites. This is trip I have always wanted to take, so I will be doing a lot of reading about the area before I leave.
In August, we are taking a cruise around the islands of Japan, stopping in Tokyo for several days, a port in Korea and another in Russia as well as many island stops. I feel so very blessed to be able to see so much of our beautiful world!
Read the journal of Barbara's trip to Australia.