In This Issue:
Quotations of the Month
 Great Customer Service Idea
News at Barbara Glanz Communications, Inc.
Product Special – "Johnny the Bagger®: A True Story of Customer Service"
Where in the World Is Barbara?
MINDFULNESS In All Your Interactions
Quotations of the Month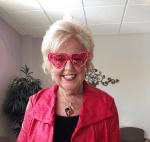 This month is Valentine's month, so I wore my fun Valentine glasses on the 14th. I hope you had a lovely month filled with caring:
A VALENTINE SURVIVAL KIT JUST FOR YOU
* A chocolate kiss to remind you that you are loved.
* A match to light your fire when you feel burned out.
* A Tootsie Roll to remind you not to bite off more than you can chew.
* Smarties to help you on those days you don't feel so smart.
* A Starburst to give you a burst of energy on those days you don't have any.
* A Snickers to remind you to take time to laugh.
* A bag to help you keep it all together and give you food for thought.
* And most importantly, a candle to remind you that you can brighten someone else's day.
Enjoy these lovely thoughts:
"Let no day end before you have spoken words of love, friendship, and thanks."
There is no illness that enough love will not heal;
No problem that enough love will not solve;
No gulf that enough love will not bridge;
No wall that enough love aill not throw down;
No sin that enough love will not redeem.
It makes no difference how muddled the tangle;
How deeply seated the problem;
How great the mistake;
A sufficient realization of love will dissolve it all.
If only you could love enough, you'd be the happiest and most powerful person in the world.
"Work hard. Play hard. Serve hard. And don't forget to love one another." ~ T. Scott Gross, Author of "Positively Outrageous Service"
News at Barbara Glanz Communications, Inc.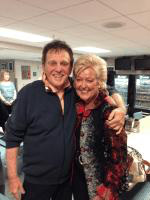 TRIP TO FIJI
I just returned from spending two weeks in Fiji with family and friends. The main occasion was the wedding of my niece, Katie, at the Octopus Resort. My travel buddy, Nancy, and I spent three days in Nadi and then went by boat to the resorts. After the wedding and our five days at Octopus, we spent three days at Paradise Cove and three more days at the Blue Lagoon where the movie of the same name was filmed. We snorkeled, swam, kayaked, ate, and partied and discovered what the research has shown — that the Fijians are the second most friendly people in the world! The islands are very romantic, and we had many fun adventures in the beautiful, but HOT, surroundings. You can read my journal of the whole trip at www.barbaraglanz.com/blog.
CELEBRITY MEETINGS
What a fun month it was to get to meet some very special people! I was invited to the Broadcaster's Luncheon on Valentine's Day where the speaker was Dickie Smothers. He shared many stories of how he and Tommy became famous and in his dry style kept us all laughing. Afterwards I talked with him and told him how, when I was in college, I was the Vice President of Student Union Activities. My "job" my junior year was to host all the celebrities who came to perform at KU, so in 1964, I was HIS hostess in Lawrence, Kansas. Now we both live in Sarasota, and in our conversation, he asked if I wanted to be in line to be his FIFTH wife! 😉
I also had the awesome privilege of being invited by Dolly and Bobby Vinton to be their guests at his concert in Clearwater, Florida, on February 16. We had wonderful seats and the biggest thrill was to go backstage afterwards. He gave the most amazing concert I have ever attended — spending a good deal of his time out in the audience, singing and hugging all the older women who adored him and his music. He played three different instruments, the trumpet, the clarinet, and the saxophone, as well as singing his own hits and arrangements of many artists whose music was a part of our growing up. He is a wonderful man who has been married 60 years and has five children, an enigma in the Hollywood scene. How blessed we are to have both these men living in the Sarasota area!
INTERNATIONAL SPEAKING
I have been asked by a company that holds CEO conferences to speak this year in Bogota, Colombia; Guatemala City, Guatemala; in Argentina and in Chile. Another hospitality organization has invited me to speak in Bangkok, Thailand, so I am excited about seeing new parts of our world and meeting many wonderful new people in 2014.
THEME FOR THE YEAR – TREASURING RELATIONSHIPS
Each year I choose a theme for my year. This year I have been deeply struck by the importance of relationships in our lives. In fact, everything we have can be taken away in a moment except for our relationships. As a result, I decided to focus this year on all the people who have made a difference in my life. I have committed to either calling, writing, or emailing one person a day who has blessed my life–some perhaps I talk with often, but many of them are will be people who may not even know the impact they have had on me. I am so excited to rekindle these friendships and to make the time to thank those people who have made a difference in my life. Who knows — many of you may be getting calls in 2014! 😉
Where in the World Is Barbara?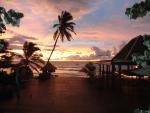 JANUARY
2 – 6 Nadi, Fiji
7 – 12 Octopus Resort, Fiji
12 – 15 Paradise Cove Resort, Fiji
15 – 17 Blue Lagoon Resort, Fiji
31 New Orleans Public Library, New Orleans, LA
FEBRUARY
5 Tampa Bay Meeting Professionals International Conference, Tampa, FL
20 – 24 Chicago, IL
28 – March 2 National Speakers Association Winter Workshop-Tampa, FL
MARCH
1 – 2 NSA Conference, Tampa, FL
6 Facilitator Call – Lead Like Jesus
8 Radio Show – Phil Taylor
25 – 28 Disney World, Orlando, FL
APRIL
March 31 – April 3 – Las Vegas, NV
8 – 12 Dubai, Emirates
12 – 15 Abu Dhabi, Emirates
15 – 20 Oman, Emirates
28 Association of Dressings and Sauces, San Diego, CA
MAY
21 University of Kansas, Lawrence, KS
27 Human Capital Forum, Bogota, Colombia
jUNE
6 Human Capital Forum, Guatemala City, Guatemala
12 Hold, Dusit International, Bangkok. Thailand
22 – 25 Society for Human Resource Management National Conference, Orlando, FL
29 – July 2 – National Speakers Association Conference, San Diego, CA
JULY
1 – 2 National Speakers Association Conference, San Diego, CA
22-25 Hold, NAHCR, Orlando, FL
For a more current calendar, go to www.barbaraglanz.com/calendar
Great Customer Service Idea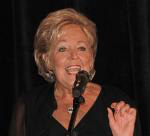 The Lexington, Kentucky, "Herald Leader" sent this letter in SCRIPT font to all their former subscribers:
Hey,
What happened to us? We used to be inseparable Now it seems like we just can't find the time. I miss our time together. Sundays were the best. We would sit down over a cup of coffee to catch up…
I know I'm not the best listener, but our time together always left us fulfilled. 😉
What do you say we start getting together again? I can drop by on Sundays and we can spend some quality time together. It would be just like old times! I can come by more often than Sundays, but I don't want to be a pest.
Please call me, email me, or write me. I MISS you and want you back!
ALways and forever,
"The Herald Leader"
What a creative and FUN way to recapture old subscribers! How might you adapt this idea in your own organization to bring back lost customers?
For more great ideas, go to www.barbaraglanz.com/ideas
Product Special – "Johnny the Bagger®: A True Story of Customer Service"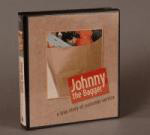 17 MINUTE Movie + Book FOR $495.00, SAVINGS of $415.95!
(Retail price" Video $895, Book $15.95 = $910.95)
Special price until March 31st, 2014 only!
You will love this touching, professionally produced dramatization of the true story that over 7 million people have watched on YouTube. It will make you laugh, cry, and will encourage your employees that ONE PERSON, no matter what his or job, CAN make a difference. You will see the skeptic, the cynic, and the manager "who does not get it," and best of all, you will see Johnny, who turns the whole store, as well as his community, upside down! You can preview the movie at www.barbaraglanz.com/johnny.
Description of Movie:
"Johnny the Bagger®: A True Story of Customer Service," celebrates the incomparable power of customer service delivered from the heart. Based on the work of noted author and speaker, Barbara Glanz, this 17 minute inspiring new program features the true story of "Johnny," a young man with Down syndrome who made a positive choice about his personal responsibility to provide from-the-heart service and changed the culture of an entire organization.
"Johnny the Bagger®" will help motivate your employees to take personal responsibility for creating a positive, memorable experience for internal or external customers — the kind of experience needed to generate customer loyalty, improve employee retention and strengthen team morale.
"The only thing your competition can't take away from you is the relationship your people h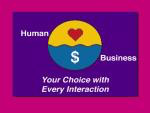 ave with your customers. After you experience 'Johnny the Bagger®,' you will see how you and everyone in your organization can make a difference in your customers' lives. The memories you create will keep people coming back-and bringing their friends-for years to come."
– Ken Blanchard, Co-author of "The One Minute Manager"
You will also receive a copy of "The Simple Truths of Service Inspired by Johnny the Bagger®" co-authored by Ken Blanchard and Barbara Glanz. This book has sold over half a million copies, and organizations such as Southwest Airlines have purchased thousands of copies for every single employee.
MINDFULNESS In All Your Interactions
I have been reading and thinking a lot about "Mindfulness" lately, the practice of being fully in the present moment. All religions teach this concept and Tolle's recent book, "The Power of NOW" exemplifies a modern, more superficial application of this practice.
In my own life in one eighteen month period, I lost my mother-in-law, my father, my small son, my puppy, and found a lump in my breast, all before I was twenty eight years old! At that time someone gave me a book that talked about living five minutes at a time. That practice became my survival mechanism on many days when I did not think I could face getting through even the next hour and ultimately taught me to be fully in the present in all aspects of my life. So, when I began to hear the term "Mindfulness," I was already a believer. However, like so many, I constantly need to find ways to stay connected to this practice and to expand my thinking to become better at it in the midst of the busyness of my life.
New brain research indicates that we each have one Reflective eye and one Projective eye. When we truly listen to someone and focus completely on them and their message both in their words and in their body language, we are using our Reflective eye. And when we share with them from our deepest being, we are using our Projective eye. I love this concept because if we are mindful in an interaction, we sense a kind of special vibration that brings us closer to that person as a human being, and that creates a joy of interaction that, though fleeting in time, can be lasting in impact and feeling.
The research also talks about how certain people and experiences can be either "expanding" or "contracting" in our lives. I have always loved the thought that in every interaction we have, we leave both us and that other person on a higher or a lower plane. Aren't there people and experiences that always seem to leave you feeling "lesser" or who simply suck the energy right out of you? And then aren't there experiences and people who energize you and bring you deep joy?
In all my work in customer service and employee engagement I use a model I created for myself– (like most of our world today, I am a very visual person)– to help be aware of the impact I was having in each encounter in my life. I call it the "Human-Business" model and the idea came from my mentors, Ken and Shannon Johnston.
The model has three columns, a minus (-) column, a zero (0) column and a plus (+) column. Below, it says, "Your choice in any interaction." The visualization of this model in my head has helped me and my audiences better understand that with each interaction in our lives, the way we treat the other person results in the way they feel about themselves,us and the organization we represent.
This new awareness can be one of the steps in practicing mindfulness – to become aware of the CHOICES we have in the outcomes of each interaction. As we become fully focused and "mindful" of the emotion and significance of that interaction for the other person, we can rise above our own needs and choose to bring them caring and universal love. Then we are not so tied to the Business outcome as we are to the Human need for significance, and both of us can leave on a higher plane.
As we work on this practice of mindfulness, it can help us to accept "what is," to work on the choice to be the most loving person we are able in each interaction, and to strive to "let go" of the feelings that contract us and hold us back from finding the most joy in our lives. What a precious way to live our lives both at home and at work! This is the essence of mindful service.
For more articles you can use in your newsletters, go to www.barbaraglanz.com/articles