In this Issue
Quotes of the Month – Believing in Ourselves
News at Barbara Glanz Communcations, Inc.
Life questions
Where in the World is Barbara?
Article of the Month – So You Want to Write a Book!
Product of the Month – "The Simple Truths of Appreciation- How Each of Us Can Choose to Make a Difference"
Quotations of the Month – Believing in Ourselves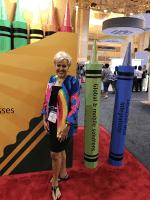 "Tomorrow is not promised, nor is today. So I choose to celebrate every day I'm alive by being present in it." ~ Oprah Winfrey
"Remember, the greatest gift is not found in a store nor under a tree, but in the hearts of true friends." ~ Cindy Lew
"It is not how much we give but how much we put into giving."~ Mother Teresa
"Life is the first gift, love is the second, and understanding the third." ~ Marge Piercy
"Pretend that every single person you meet has a sign around his or her neck that says, 'Make me feel important.' Not only will you succeed in sales, you will succeed in life." Mark Kay Ash
"Life is my college. May I graduate well, and earn some honors."~ Louisa May Alcott
"It's very easy to forgive others their mistakes. It takes far more gut and gumption to forgive them for having witnessed your own."~ Jessamyn West
"Until I feared I would lose it, I never loved to read. One does not love breathing."~ Harper Lee
"Only when your consciousness is totally focused on the moment you are in can you receive whatever gift, lesson, or delight that moment has to offer."~ Barbara de Angelis
"Never be afraid to trust an unknown future to a known God."~ Corrie Ten Boom
More inspiring quotations can be found on every page of Barbara's web site.
News at Barbara Glanz Communications, Inc.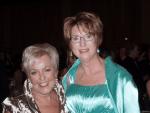 BARBARA HONORED TO INTRODUCE HER DEAR FRIEND, JOLENE BROWN, AS THE NEWEST SPEAKER IN THE CPAE SPEAKER HALL OF FAME
What a JOY it was for me to be asked to introduce Jolene Brown as the newest Hall of Fame inductee at the National Speakers Association Convention in Orlando last month! Jolene is one of the most sought after, hardest working, most experienced, and dedicated speakers I know, as well as the most beautiful person both inside and out. It was a HUGE honor to be able to share in the celebration of her induction to this elite group. I have to admit, however, that I was more nervous introducing her than I was when I received the honor – I just wanted it to be perfect for HER! 😉
FULL LENGTH LIVE PRESENTATIONS NOW AVAILABLE ON THE WEBSITE
We are excited to offer you the opportunity to view two full length live presentations on my website. View a full 60 minute presentation titled, "Spreading Contagious Enthusiasm™ – Appreciation as a Happy and Healthy Way of Life" in front of a live audience at the Glenridge Performing Arts Center:
Click for more information about this program.
You can also view an 18 minute live presentation titled "Spreading Contagious Enthusiasm: Creating a Culture of KINDNESS" at the Society for Human Resource Management national convention 2017 in New Orleans: Watch the video
AUGUST TRIP TO SPAIN, PORTUGAL, and GIBRALTAR
I am excited to experience a two week trip in August to some special parts of the world where I have never been. The cruise will end with three days in Barcelona, my favorite city in the world. Watch my social networking sites for pictures!
View all of her videos in the Videos section of her web site. 
Life questions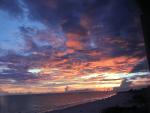 I love this thought that a friend sent me: "If you could sit on this bench and chat for 1 hour with anyone from the past or present, who would that be?" We can quickly learn a lot about one another, our values, our dreams, and our beliefs in the answer to this question.
When I have the honor of coaching people, these are some of the life questions I ask:
* Do you have a mission statement for your life and/or a theme for your year?
* What are three personal goals you want to accomplish this year?
* What are three professional goals you would like to accomplish?
* What is your mission for your profession or business?
* List several events or accomplishments that have been huge positives in your life.
* List several events or aspects of your life that have been the most negative or difficult.
* Think of your life as a book – What would the title be? What are the chapters? What are some significant learnings that guide your life today?
As I write this newsletter, I think how much I would enjoy sitting down on my beach and talking with each one of you about these questions. Please feel free to email me your thoughts and answers at bglanz@barbaraglanz.com.
Read more information on Barbara's coaching, visit Coaching in the Programs section of Barbara's web site.
Where in the World Is Barbara?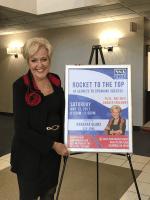 JULY
7 – 12 Orlando, FL
19 – 21 Seattle, WA
22- 24 Long Beach, WA
AUGUST
7 – 8 Bilbao, Spain
9 Gijon, Spain
10 Santiago De Compostella
11 – 12 Lisbon, Portugal
13- 14 Gibraltar, UK
15 Alicante, Spain
16 Ibiza, Spain
17 Minorca, Spain
18 – 21 Barcelona, Spain
24 – 27 Front Royal, VA
SEPTEMBER
13 – 15 Lubbock, TX
22 – 23 Novi, MI
29 – 30 Minneapolis, MN
OCTOBER
3 – 6 Yellowstone National Park
7 – 10 Jackson Hole, WY
11 – 17 Portland, OR
26 – 27 Las Vegas, NV
NOVEMBER
1 – 2 Las Vegas, NV
12 – 18 Queen Mary II from New York to London
19 – 21 London, England
DECEMBER
15 – 18 New York, NY
See Barbara's most up to date calendar in the Calendar section of her web site. 
Article of the Month – So You Want to Write a Book!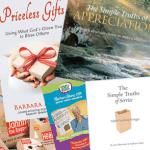 Writing a Compelling Book Proposal – A Critical Moment in the Publishing Adventure!
Barbara A. Glanz, CSP, CPAE
One of the ongoing debates for any writer is whether to self-publish or to try to get one's book published by a mainstream publisher. Before you read any further, you must know that I have a personal bias. All but one of my thirteen books (and several upcoming projects) have been published by well-known publishers, and I feel strongly that part of the success of my book sales is due to the credibility that has given me. I have never had an agent, all of my books have sold well above the 10,000 copies publishers seem to use to determine a successful book, and I have also made some money!
I find that most new writers do not realize the process of getting a book published by a mainstream publisher. Instead of a full manuscript, publishers (and agents if you use one) really want only an 8 – 10 page proposal. Following are the required sections for most publishing houses:
BOOK CONCEPT
This is an overview describing the book written in succinct, objective terms. Gives the "what" and "why." The "what" covers the primary concept and scope of the book. The "why" gives the background of what's happening in the marketplace that creates the need for the book. Specify the length of the manuscript (number of words), describe illustrations and/or photographs, and give projected date of completion. 1-2 pages.
PURPOSE
States the main purpose or theme of the book in one or two sentences. When someone asks you, "What is your book about?", readily and succinctly answer. Learning to speak and write in sound bites will impress the media as well!
MARKET
Describes the audience for the book. Be as specific as possible. Avoid broad generalizations. Give numbers of potential book buyers if possible. 1 page.
COMPETITION
List competitive books (books someone might buy instead of yours) and state how your book is different and better. Avoid being overly critical of other books. Answer the question: "Why should there be another book on the market?" 1-2 pages.
CONTENT SUMMARY
Give table of contents. I recommend that you have at least 10 chapters and use titles and subtitles. The title should be informal or catchy and the subtitle descriptive. Polish the chapter titles and subtitles–they are key selling points. Table of contents is the "make or break" part of retail book sales. 1-2 pages.
CHAPTER SUMMARIES
Give a short summary of each chapter. Usually one or two paragraphs (1/4 to 1/2 page) but they can be as long as one page per chapter, at least 3 to 10 pages or more. Many publishers will also ask for a sample chapter or two as well to demonstrate your writing style.
AUTHOR
State your qualifications and experience that enable you to write the book. List previous publications and advantages that you have as an author (contacts, resources, research data, personal experiences, etc.). Include who you know, how many you can sell, and how you are going to help sell this book. Usually 1 page.
PROMOTION
List all the means you have and are willing to use to assist the publisher to promote and sell the book. Examples are presenting workshops or classes, making presentations at regional and national conventions, writing magazine or journal articles, appearing on radio or TV, etc. Usually 1 page.
OPTIONAL SECTIONS:
COMMENTS FROM READERS
If others have read the proposal and have favorable comments, their comments may be good selling points. Review comments from "name" people and "name" organizations are most valuable. Construct this section so that it reads like book jacket copy. If you have speaker contacts, other authors or clients who are willing to provide a testimonial for the book when completed, include their names here. Usually 1-2 pages.
RESEARCH METHODOLOGY
If your book is based on research, it may be helpful to provide more information about your techniques and methods. New research can be the most powerful selling point.
SAMPLE OF WRITING
If you have a good, short article that has been published recently (especially one that covers the same topic), include it as a sample of your writing style.
SUPPORTIVE MATERIAL
If you have short newspaper or magazine clippings that describe what is going on in the market that creates a need for the book, they may be good selling points.
Above all, have a passion for your topic. Believe in the message you are sharing, and make sure your life and work authenticate your message. When an editor feels your passion and commitment to a distinctive, marketable idea, he or she will relish giving you a contract, and you will both succeed.
Remember, it is an editor's job to find good material. You already have great ideas. Just begin by doing your research and networking and then writing a "knock your socks off" proposal that the publisher can't resist. You CAN do it!
Visit the Articles section of Barbara's web site for more articles.
Product of the Month – "The Simple Truths of Appreciation- How Each of Us Can Choose to Make a Difference"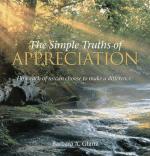 This precious gift book with lovely pictures, quotes and stories is now available in paperback. What a special gift it can make for your friends, family members, or clients as a Thanksgiving gift! People get many gifts at Christmas, but to really stand out, send a surprise gift of Appreciation at a special time of the year when we all think about those for whom we are grateful. It will bless them for a lifetime.
Order your copy in the Books section of  Barbara's Products.