In This Issue:
Quotations of the Month
Where in the World is Barbara?
News at Barbara Glanz Communcations, Inc.
Great Reads
Article of the Month–"Building Customer Loyalry"
Product of the Month –"CARE Packages for your Customers- An Idea a Week to Enhance Customer Service"
Quotations of the Month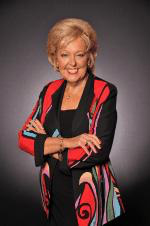 "Memory is the scribe of the soul." ~ Aristotle
"There are several ways to perform almost any act –an efficient, workable, artistic way and a careless, indifferent sloppy way. Care and artistry are worth the trouble. They can be a satisfaction to the practitioner and a joy to all beholders." ~ Helen Nearing
"The time is always right to do what is right." ~ Martin Luther King, Jr.
"If you ask me what I came to do in this world, I, an artist, will answer you: I am here to live out loud!" ~ Emile Zola
"It's no use walking anywhere to preach unless our walking IS our preaching." ~ St. Francis of Assisi
"Leaders are not always the people in charge. ENGAGED leaders are the people who take charge by charging people up!" _ David Zinger, "Engage"
"Take a chance! All life is a chance. The man who goes furthest is generally the one who is willing to do a dare. The 'sure thing' boat never gets far from shore." ~ Dale Carnegie
"Years may wrinkle the skin, but to give up enthusiasm wrinkles the soul." ~ Samuel Ullman
"An optimist sees an opportunity in every calamity. A pessimist a calamity in every opportunity." ~ Sir Winston Churchill
News at Barbara Glanz Communcations, Inc.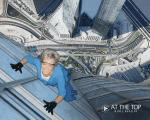 TRIP TO DUBAI, ABU DHABI, AND OMAN
From April 8 to 22, Barbara traveled with her friend, Nancy, to the Arabian Peninsula. She will post an account on her blog soon at www.barbaraglanz.com/blog. Dubai was spectacular with its amazing architecture (including the Khalifa Tower, which is the tallest building in the world as well as an indoor ski slope inside a shopping mall), and technology (there was even wifi in the restrooms on the beach!). Abu Dhabi is the political capital of the Emirates, and Oman, which is a huge country (not a part of the Emirates as we at first thought) was like going back in time. While there, we traveled in a private car from the desert to the mountains, staying overnight in a tent in the desert, riding camels, visiting date palm oases, and traveling unpaved roads on the side of cliffs to visit the "Grand Canyon of Oman." We certainly learned a lot about different cultures, and it was especially interesting to spend Easter in a mostly muslim country.
BARBARA WAS A GUEST ON THE "EMPOWER AMERICA" RADIO SHOW
On May 3 Barbara was a guest of Phil Taylor on his internationally broadcast radio show, "Empower America." Barbara talked about her work helping organizations create cultures where employees are fully engaged and giving their very best to their jobs. She discussed the acronym, CARE, as the elements of a spirited workplace and shared many creative ideas to help individuals and organizations achieve this spirit in their work and in their lives. You can listen to the interview at http://www.blogtalkradio.com/goalachievers/2014/05/10/empower-america-hour-with-barbara-glanz
INTERNATIONAL TRAVEL
On June 6, Barbara will be the keynote speaker for the Human Capital Forum, a conference of CEOs, in Guatemala City, Guatemala. She will also speak to this group in Buenos Aires, Argentina, in September; in Bogota, Colombia, in October; and in Santiago, Chile, in November. She has also been asked to speak for the Netherlands Association of Travel Agents and Tour Operators on the island of Cyprus in November. Thank goodness for the new Global Entry program!
SPEAKING AT THE UNIVERSITY OF KANSAS
One of the highlights of this spring is Barbara being asked to be the keynote speaker for her alma mater, the University of Kansas, where she graduated magna cum laude and was honored as a Hilltopper (outstanding senior) among many other activities. What fun it will be to be back on campus and to give back to the school that has helped her become successful in her business and life!
"CARE PACKAGES FOR THE WORKPLACE" DESIGNATED A CLASSIC!
McGraw-Hilll, the Publisher of Barbara's 1996 book, "CARE Packages for the Workplace — Dozens of Little Things You Can Do to Regenerate Spirit at Work," has recently designated the book as a classic because it is still selling thousands of copies a year. What a thrill that is to think of how many organizations are better places to work because of the ideas in that book!
To order a copy of "CARE Packages for the Workplace," go to www.barbaraglanz.com/products/books
Article of the Month–"Building Customer Loyalty"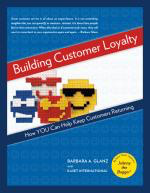 "BUILDING CUSTOMER LOYALTY–What Are the Service Attributes that Keep Customers Returning?"
Barbara A. Glanz, CSP, CPAE
In many organizations, customers are "built in." You have a captive audience in your communities, your schools, or your corporations. Therefore, the idea of building customer loyalty may seem a little strange. Just imagine what would happen to your facility and your jobs, however, if no customers ever used your services! With most organizations, customers have many choices as to where to go to get their needs met. How can you ensure that they will come to you, again and again?
Take a moment and think of an organization, store, restaurant, or company to which you feel strongly loyal. In other words, this is a place you choose to go even though you may have other choices. It may be out of your way, and it may even cost a little bit more. However, you choose to go there over and over again. As you think about your relationship with this organization, what comes to mind that might illustrate why you feel loyal to them? What specific things have been done to make you a loyal customer? What do you like about this organization or place? Why do you keep coming back?
We asked this question to several hundred people in a variety of industries across North America for my book, " Building Customer Loyalty – How YOU Can Help Keep Customers Returning." In nearly every case, loyalty was created by the specific actions of one individual employee . The same is true for disloyalty. In his book, "How to Win Customers and Keep Them for Life," Michael LeBoeuf states the following reasons why customers stop doing business with an organization:
* 1 percent die.
* 3 percent move away.
* 5 percent develop other friendships.
* 9 percent leave for competitive reasons.
* 68 percent leave because of an attitude of indifference toward the customer by the owner, manager, or an employee.
Therefore, the responsibility for creating customer loyalty or disloyalty occurs at the level of every one-on-one interaction with a customer, whether it is written, electronic or face-to-face.
A FRAME FOR UNDERSTANDING CUSTOMER LOYALTY
Karl Albrecht in his book, "At America's Service," says that "Every service employee is a manager." Do all of your employees feel like they are managers? What a difference that could make in their self esteem and feelings of importance! The opportunity for you to make a difference by supplying quality work in a caring way exists at each moment of truth a customer has with you or your organization.
Jan Carlzon of Scandinavian Airlines first coined the term "moment of truth." A moment of truth is "any instance when a customer comes into contact with some aspect of your organization and has an opportunity to form an impression" about the quality of service provided. Every service employee has the CHOICE to manage each of these moments of truth by having control over his or her behavior toward the customer. At each of these moments of truth, many things can go right or wrong to create a strong impression for the customer about the organization. Positive moments of truth are the building blocks of customer loyalty.
One way to better understand how to manage your moments of truth in a way that will impact customer loyalty is to consider that every interaction we have with anyone has two levels — the BUSINESS LEVEL which gets the work done or meets the customer's external objectives and the HUMAN LEVEL which is all about how the customer feels about the interaction. For example, how many of you have been to a doctor who treated you only on the Business Level? How did that feel? Unfortunately, some organizations spend all their time and energy training employees on the Business Level without spending any time helping them create positive moments of truth on the Human Level for their customers.
When we studied customer loyalty, we found that no matter how good your organization is on the Business Level, that will rarely get you above a "C" on the customer report card because your customers EXPECT you to be good at your core business. Rather, it was caring customer service, how the customer is treated in the interactions they have while conducting the business, that impacted customer loyalty and got the organization A's and B's on the customer report card. Customer service includes both the people involved as well as the processes that are used (policies, practices, and procedures). How customer-friendly are both your employees and the policies of your organization? The answer to this question will greatly impact the number of loyal customers you have.
Since 1973 studies have been done on what customers really want, and the results have been the same every time. Customers say they want four things:
1. Friendly, caring service — Customers want to be treated with courtesy and respect. They want to feel that they are important.
2. Flexibility — Customers want you to jiggle the system for them and their individual needs. They don't want to hear "no"; they don't want to hear all the things you've done for others; they want you to creatively figure out a way to get them what they want or need.
3. Problem-solving — Customers want the first person they speak to to solve their problem, not the supervisor or manager. The problem may be a business problem such as getting some necessary information for a contract or study or it may be a human problem such as making a decision on colleges for their son or daughter.
4. Recovery — When the organization or an employee has made a mistake, the customer wants them to apologize, fix the mistake, do something extra, and follow up. They want it to be taken care of quickly and to their satisfaction. Note that this can become an opportunity to create a loyal customer by recovering quickly and creatively.
You can see that most of the four things customers want fall on the Human, not the Business level. Does your own experience verify this when you think about your answers to the questions posed at the beginning of this article? Therefore, customer loyalty is created by quality core service (the business you are in) that meets the customer's expectations and caring customer service that exceeds the customer's expectations.
BARBARA GLANZ BIOGRAPHY
For free articles you can use in your company newsletters and an archive of dozens of immediately applicable "Ideas of the Month," go to www.barbaraglanz.com/articles. Barbara Glanz, CSP,CPAE. works with organizations that want to improve morale, retention, and service and with people who want to rediscover the joy in their work and in their lives. She is the author of 12 best-selling books. As an internationally known speaker, trainer, and business consultant who has a Master's degree in Adult Education, Barbara lives and breathes her personal motto: "Spreading Contagious Enthusiasm™." She has presented on all seven continents and in all 50 states since 1995. For more information, she can be reached directly at 941-312-9169; Fax 941-349-8209; email: bglanz@barbaraglanz.com; website: www.barbaraglanz.com.
To order a copy of "Building Customer Loyalty", go to www.barbaraglanz.com/products/books
Where in the World is Barbara?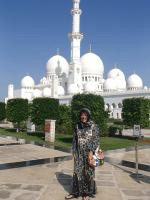 WHERE IN THE WORLD IS BARBARA?
APRIL
March 31 – April 3 – Las Vegas, NV
8 – 12 Dubai, Emirates
12 – 15 Abu Dhabi, Emirates
15- 20 Oman
28 Association for Dressings and Sauces, San Diego, CA
MAY
3 Radio Interview – "Empower America Hour"
14 Greater Houston Women's Chamber of Commerce – Houston, TX
21 University of Kansas Endowment, Lawrence, KS
25- 28 Puerto Rico
May 30 – June 1 Hickory, NC
jUNE
6 Human Capital Forum, Guatemala City, Guatemala
12 Hold, Dusit International, Bangkok. Thailand
22- 25 Society for Human Resource Management National Conference, Orlando, FL
29 – July 2 – National Speakers Association Conference, San Diego, CA
JULY
1-2 National Speakers Association Conference, San Diego, CA
22-25 Hold, NAHCR, Orlando, FL
AUGUST
5 Hold, Southern Gas Association, Sarasota, FL
21- 24 Veteran Speakers Retreat, Boiling Springs, PA
For a more current calendar, go to www.barbaraglanz.com/calendar
Great Reads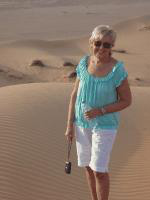 As a former high school and college English teacher, i have always loved to read. Several years ago I started a book group here in Sarasota, and I also belong to a Mastermind Group where we share books. Here are some of the things I have been reading lately:
* "One Thousand White Women: The Journals of May Dodd"– Jim Fergus
* "Start Something that Matters" ~ Blake Mycoski, the Founder of Tom's Shoes
* "The Round House" ~ Louise Erdrich
* "Daring Greatly" ~ Brenee' Brown
* "And the Mountains Echoed" ~ Khaled Hossseini
* "Tell the Wolves I'm Home" ~ Carol Rifka Brunt
* The Upside of Irrationality" ~ Dan Ariely
* "Love Does- Discover a Secretly Incredible Life in an Ordinary World" ~ Bob Goff
* "The Illusion of Separateness" ~ Simon von Body
* "Someone Knows My Name" ~ Lawrence Hill
* "On Writing" ~ Stephen King (About his process of writing)
* "The Signature of All Things" ~ Elizabeth Gilbert, Author of "Eat, Pray, Love"
* "Teaching of Suanthip" ~ Asian Leadership Institute (On Mindfulness)
* "Legendary Service — The Key Is to Care" ~ Ken Blanchard, Kathy Cuff & Vicki Halsey (His newest book)
* "100 Wonders of the World" ~ Michael Hoffman & Alexander Krings
* "A Leader's Gift – How to Earn the Right to Be Followed" ~ Barry Banther (Was #1 on NYT Bestseller list this month)
* "Fire of Grace- The Healing Power of Forgiveness" ~ Richard Rouse
* "Behind the Beautiful Forevers – Life, Death, and Hope in a Mumbai Ubercity" ~ Katherine Boo, Winner of the Pulitzer Prize
To learn more about Barbara's work and life, go to www.barbaraglanz.com
Product of the Month –"CARE Packages for your Customers- An Idea a Week to Enhance Customer Service"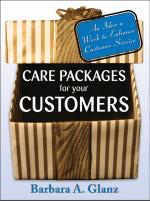 Are you building enough customer loyalty in your organization? Bestselling business author Barbara Glanz has created the ideal, hands-on customer service survival kit to help you keep your customers coming back for more!
"Care Packages For Your Customers" gives you 52 proven, actionable ideas for providing extraordinary service, increasing sales, and ensuring continual business success. By implementing one technique per week, you'll deliver a complete CARE package of exceptional customer service.
Providing examples of each technique and tips for successful implementation, this solution-oriented tool also includes:
* Self-assessments, brainstorming exercises, checklists, and worksheets
* Real-life examples of how companies have created enhanced experiences for their customers
* Helpful "how-to" tips on obtaining customer feedback, organizing employee focus groups, and boosting employee performance
* Unique, time-tested strategies for doing business, such as The Emotional Bank Account, The Five Loyalty Builders, and The Eleven Commandments for Good Listening
You can make every interaction with a customer meaningful, memorable, and beneficial for your business. All you have to do is CARE!
To order Barbara's books and products, go to www.barbaraglanz.com/products