Today, I'm hosting The 10 Commandments of Leadership Blog Tour, by WalkTheTalk.com. For 10 days, 10 blogs are highlighting and discussing each of The 10 Commandments of Leadership.
Based on over sixty years of combined professional experience working with leaders in organizations of all types and sizes, "The 10 Commandments of Leadership", written by Eric Harvey and Steve Ventura, provides a powerful collection of universal best-in-class leadership beliefs and behaviors. Regardless of if you are leading a large organization, a small group of peers, or your own family, these ideas will help you be the best leader you can be.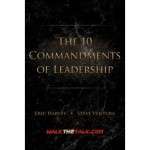 EXCERPTED from Chapter 7
"Confront Challenges with Courage"
Even the very best leaders must occasionally pass the courage test. The true measure of your leadership effectiveness is the ability to look in the mirror and know that you had the strength and courage to do what, deep down inside, you knew was the right thing to do. And it's that very fact that leads to the seventh leadership commandment, Confront Challenges with Courage.
Courage is …
• Following your conscience instead of "following the crowd."
• Taking action against hurtful or disrespectful behaviors.
• Sacrificing personal gain for the benefit of others.
• Speaking your mind even though others don't agree.
• Taking complete responsibility for your actions … and your mistakes.
• Following the rules – and insisting that others do the same.
• Hiring and promoting people who are faster, smarter, and more talented than you are.
• Challenging the status quo in search of better ways.
• Facing setbacks and disappointments head-on – without losing your drive and spirit or adopting a victim mentality.
• Telling others what they need to hear rather than what they want to hear.
• Doing what you know is right – regardless of the risks and potential consequences.
Make us choose the harder right
instead of the easier wrong,
and never to be contented with half truth
when whole truth can be won.
Endow us with courage that is born
of loyalty to all that is noble and worthy,
that scorns to compromise with vice
and injustice and knows no fear
when right and truth are in jeopardy.
"Cadet Prayer" repeated during chapel services at the U.S. Military Academy.
Take Away …
Leadership is not for the faint of heart. Along with your title comes many awesome responsibilities – and an equal number of situations that can, and will, test your mettle. And one thing is for sure: Your effectiveness as a leader will be determined by how well you pass those tests … by how well you practice this seventh commandment of leadership.
QUESTION for Chapter 7
Share a time you had to use courage to confront a challenging situation? What (if any) interpersonal conflicts did you have to face in the process?
Now is your chance to win! Here's how!
1. By 12 midnight (Eastern) tonight: Post your answer to the above question (as a comment) on this blog and your name will be entered into a drawing to receive a FREE copy of The 10 Commandments of Leadership. Your name will be entered into the drawing a second time if you send us a "tweet" by copying and pasting the following: @Leader_Solution I commented on Day 7 of The 10 Commandments Blog Tour
2. By 12 midnight (Eastern) on January 28: Post your answer to each day's question (10 comments in total) for a chance to win a $100 Gift Certificate to WalkTheTalk.com. Be sure to click here to learn more about the book and see the schedule forThe 10 Commandments of Leadership Blog Tour,